Denver Area Fishing
by Karen Christopherson
We get so many questions here at ColoradoFishing.net enquiring about fishing in the Denver area - and not just stream fishing either! So, we've compiled a list of some Denver area lakes, reservoirs, rivers, and streams with links to information about fishing these areas. Also, ask at your favorite flyshop or store for info on where to fish in the Denver area. Colorado Parks and Wildlife gives reports on many of these areas weekly (during the summer) - click here to see CPW's online reports.
The good news is that CPW will be stocking Denver area lakes and reservoirs with more fish than ever before. Changes in regulations on stocking were enacted because of whirling disease. Many of the higher-elevation waters will be stocked far less than before, or not stocked at all, with the excess fish being placed in Front Range waters.
There are many opportunities for fishing in and near Denver, more than we've listed here. And, the Colorado Division of Wildlife plans to open up more waters to anglers in the near future, including lakes and creeks in Denver, Golden, Brighton and Sedalia.
View
Denver Fishing Spots
in a larger map
Lakes and Reservoirs
Most lakes and reservoirs in the Denver area are managed by one of the following agencies - Bureau of Reclamation, city governments, Denver Parks, Colorado State Parks. You can get more information about these various areas by clicking on the link (name) of the place you are interested in.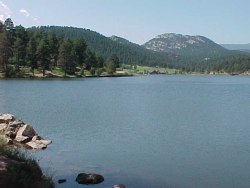 Evergreen Lake
Since the Denver area waters are moderate in temperature, most hold both cold and warm water species. The table below shows the type of fish by abbreviation - we have listed just some of the species available in these areas:
T = Trout (mostly rainbows, stocked)
P = Perch
SB = Smallmouth Bass
LB = Largemouth Bass
TM = Tiger Muskie
C = Crappies
W = Walleye
| | | |
| --- | --- | --- |
| Aurora Reservoir | T, P, W, P, C, LB | 1 mi east of Gun Club Rd on Quincy |
| Barr Lake | T, SB, LB, TM, P | 1-76 and Bromley Ln |
| Bear Creek Lake | T, SB, TM | Morrison Rd E. of C-470 |
| Berkeley Lake | T, C, LB | 1-70 @ Sheridan |
| Centennial Park Lake | T, SB, LB, C | S. Federal between Oxford and Belleview |
| Chatfield Reservoir | T, P, TM, LB, C | C-470 & Wadsworth |
| Cherry Creek Reservoir | T, W, C, TM, LB | I-225 & Parker Rd |
| Evergreen Lake | T, TM | downtown Evergreen - Hwy 74 |
| Jim Baker Reservoir | T, SB, LB, TM, C | S. of 64th and Lowell |
| Quincy Reservoir | P, SB, TM | 17900 E. Quincy |
| Rocky Mountain Lake | C, LB, T | W. 46th between Federal & Lowell |
| Sloans Lake | T, P | W. 26th Ave. and Stuart St. |
| Standley Lake | T, W, SB, P | 88th & Kipling |
| Washington Lake | T, LB, P, C | S. Downing @ W. Louisiana |
| Webster Lake | T, LB, P, C | 117th and Washington |
| Westminster City Park Pond | T, P, LB | Sheridan & 104th |
Rivers and Streams
For stream fishing, you need to travel west into the foothills. Watch for private property - there is good access on these rivers and stream; private property is usually well-marked. Many of these streams are great for flyfishing. Please practice catch and release and preserve the fish for another time.
For a list of Denver area flyshops and guides, see our Denver Metro page
Resources/Other Info:

Click here to buy an Ebook about Trout fishing on Colorado State lands - includes info about some Denver area State Parks and State Wildlife Areas.
website for the Division of Wildlife which gives weekly stocking reports and fishing information (including reports)
---