Foothills Fishing Part II:
South Boulder Creek
by Karen Christopherson
The is the second in a series about fishing in the Colorado Front Range foothills. This week we will travel to South Boulder Creek. There are actually several different sections of the creek which are accessible, some easy to reach and some more difficult, but all offering rewarding fishing and a different change of pace.
Above Rollinsville
South Boulder Creek originates in the Front Range, west of Rollinsville. It flows east along the railroad tracks which run through the Moffat Tunnel (under Rollins Pass). A dirt road also follows most of the creek. Portions of the creek flow through forest lands. Take a map or watch for signs so that you are sure to be on public property. There are also a few fun tributaries which can be reached by hiking or 4WD vehicle.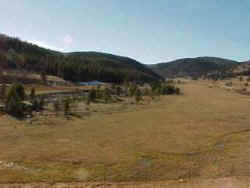 Looking west from Rollinsville
Above Gross Reservoir
The creek and railroad part from the highway at Pinecliffe. Access to the creek, on USFS lands, is available by parking at Pinecliffe and walking along the tracks, following the creek downstream. It is about a half-mile trek to the forest boundary. From here, there are about two miles of creek access. Remember to be careful walking along the tracks and through tunnels - numerous trains run the route each day, and you are trespassing on RR property when walking on the tracks.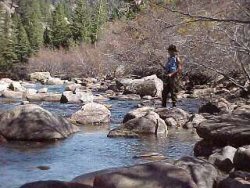 Fishing among the boulders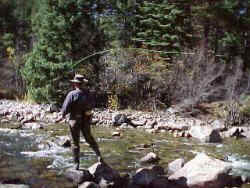 You can probably get by without waders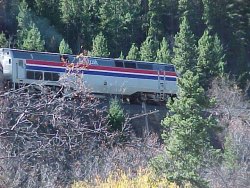 Watch for Amtrak and freight trains
This portion of the creek is beautiful - the streambed is filled with HUGE boulders and these have created many deep pools. We caught small brookies during our fishing trip, going for anything from dries to nymphs several feet below the surface. The water was crystal clear, so stealth fishing was a must. There are less trees and brush along this creek than many others in Colorado, and scrambling over the boulders is quite fun!
Below Gross Reservoir
There is a tailwater section of South Boulder Creek. It is access from Walker Ranch Open Space (Boulder County) or Eldorado Canyon State Park (above the canyon section).
| | |
| --- | --- |
| | Picturesque tailwater |
Eldorado Canyon
Further downstream, the creek flows through Eldorado Canyon. This area, a haven for rock climbers, offers fishing on about one mile of the creek. Entrance fees to the park depend upon the time of year: $5-$6 per carload, or $2-$3 per person (if you walk in).
Resources/Other Info:

Buy an ebook on CD: Fifty Colorado Tailwaters: A Fly Fisher's Guide Click here for info or to purchase. Includes the South Boulder Creek area below Gross Reservoir

Click here to buy topo maps for this area. You need map 103 for S. Boulder Creek above Rollinsville. For the other sections, a USFS map would be handy. Maps are produced by National Geographic Maps
See the website for Arapaho and Roosevelt National Forest
Eldorado Canyon State park has a website.
Much of this area was developed around the railroad. The Moffat Tunnel bores through the Front Range travelling under Rollins Pass. The rail line then goes north to Granby, turning west to follow the Colorado River.
How to get there?
West of Rollinsville - take Hwy 119 north of Blackhawk to Rollinsville. Turn west on the Rollins Pass Road. This follows the creek.
Above Gross Reservoir - take Hwy 72 west (Coal Creek Canyon) off of Hwy 93. Follow this to Pinecliffe. Park near the railroad tracks and hike downstream. Public property begins near the stream gauge and continues to Gross Reservoir. Or, take Hwy 119 north of Blackhawk, past Rollinsville, and turn east on Hwy 72 to Pinecliffe.
Below Gross Reservoir - follow Hwy 72 west from Hwy 93 (north of Golden) - take the turn off for Gross Reservoir. Or, you can travel from north (Boulder area) off of Flagstaff Road
In Eldorado Canyon State Park - take Hwy 93 north from Golden (or south from Boulder) to Hwy 170. Turn west and follow to entrance of park.
Rules for South Boulder Creek
State regs on all of the river.
Where to stay?
There are several forest service campgrounds in the area. There are a few motels and cabins in Nederland.
---