Fishing a Legend: The South Platte
From Deckers through Waterton Canyon
by K. Christopherson
I would guess that almost everyone has heard of the South Platte - it's somewhat of a legend.
The beauty of the river is not just the abundance of fish and easy access. Huge granite boulders lie in portions of the stream, fallen from the walls of the canyons. Much of the granite here is exfoliated, creating domed shapes that are both unusual and mystic. But take your eyes off those canyon walls - this river holds an abundance of trout - rainbows and browns - averaging anywhere from 4000 to 7000 fish per mile. The river can also hold an abundance of fisherman on weekends.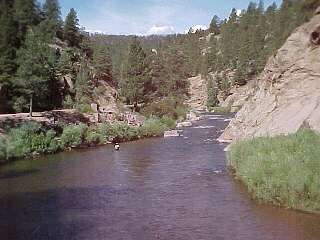 Angling on the South Platte near Eagle Rock
Much of the river, from Deckers to Waterton Canyon is on Pike National Forest land and has reasonably easy access. Hwy 67 follows the river, as do other county roads. Private property is mostly well-marked. There is a great map and guide for the South Platte River, which you can buy from our online store (see below).
Some of the roads are very narrow in places - watch the curves. There are lots of parking areas, as well as picnic areas and campgrounds. Be aware that this whole area can get very crowded on weekends. Regardless, park the car and grab your waders - its' a short walk to the river. Portions of the river are reasonably free of brush and fishing from shore, bars, or rocks is possible.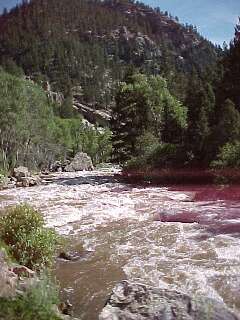 The South Platte flowing through Waterton Canyon (looking east)
The North Fork meets the South Platte at the entrance to Waterton Canyon. Here the river is accessible by foot or mountain bike - there is a parking lot across from the old South Platte Hotel. The trail follows the grade of the narrow gauge tracks (now removed). This track was laid in 1876 for the Denver South Park and Pacific rail line, running from Denver to South Park and Leadville to service the mining camps. However, on weekends it was popular with Denver anglers offering access to world-class fishing in the 1870's.
You can also access Waterton Canyon from the east. Drive south on Wadsworth Blvd (Hwy 121), south of C-470. The road essentially ends at Kassler where you can park and hike into the canyon. Strontia Springs Reservoir is found in the canyon. This area of non-vehicle access runs for about 8 miles.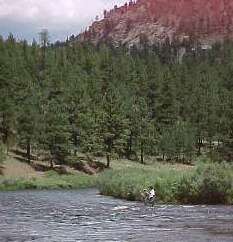 Father and son fishing near Lone Rock Campground
How to get there?
From 285 near Conifer: Turn south on Foxton Road. This will lead to the North Fork of the South Platte. Follow downstream to the South Platte and Waterton Canyon
From 285 at Pine Junction: Turn south on Pine Valley Road (Rd. 126). Continue to Deckers, or turn off on 96 Rd., following the North Fk. to its confluence with the South Platte
From Sedalia: Turn west on Hwy 67. Follow over Rampart Range. Hwy 67 will turn south and follow the S. Platte to Deckers
From Woodland Park: Take Hwy 67 north to Deckers
Resources:
Buy South Platte Digital Fishing Maps Click here for info or to purchase. Available as download or on cd.
Buy an ebook on CD: Fifty Colorado Tailwaters: A Fly Fisher's Guide Click here for info or to purchase. Includes the Cheesman section of the South Platte
Click here to buy a topo map for this area. You need map 135 for the South Platte from Cheesman Res. to Chatfield Res. Maps are produced by National Geographic Maps
See how to tie the RS2 nymph which works well on this river.
Check out the web site for Pike Nat'l Forest for info on camping, hikes, drives, and fishing in the area.
On your way home, stop in at the Bucksnort Saloon - guaranteed to be one of the most different places you will ever have a beer. It's located in Sphinx Park. Turn east at Pine and follow the narrow road for a couple of miles - beautiful granite outcrops will stun you!
When hiking in Waterton Canyon, look for Bighorn Sheep.
Rules:
From Cheesman Dam downstream to upper boundary of Wigwam Club - Gold Medal - fishing with artificial flies or lures only; catch and release
From lower boundary of Wigwam Club to Scraggy View picnic ground - Gold Medal - fishing with artificial flies or lures only; bag and possession is 2 fish, 16" or longer
From Strontia Springs dam to 300 yds upstream from DWB diversion structure - fishing with artificial flies or lures only; bag and possession is 2 fish, 16" or longer
Where to stay?
There are National Forest campgrounds at Lone Rock (just upstream from Deckers) and along Hwy 67 on the S. Platte, and Kelsay, near Hwy 126 south of Pine - both of them take reservations which is a good idea for weekends in the summer. Other USFS do not take reservations, and some are tent only. There are some cabins available in Pine and near Deckers. You can reserve space for some of these places online at
Recreation.gov
.
Info on Other South Platte areas:
Map: Deckers area
View Larger Map
---