Elevenmile Canyon
Part of the South Platte series
by K. Christopherson

Click here to buy a digital South Platte Fishing Map
The South Platte River offers so many fishing opportunities that we definitely have to divide our river fishing descriptions into several stories. This week we cover Elevenmile Canyon - a beautiful portion of the river's course offering great angling.
Elevenmile Canyon starts just below Elevenmile Reservoir. Although the reservoir is situated in the rather bleak and windy terrain of South Park, Elevenmile Canyon is like a totally different world - pine and fir trees, tremendous rock outcroppings, and gorgeous pools.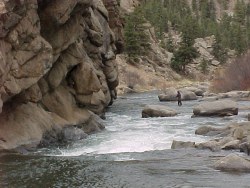 The installation of changes in DOW regulations since 2001 have improved and preserved this fishery. Elevenmile Canyon is now artificial flies and lures only, and catch and release, for the four miles below the dam (to Springer Gulch). DOW, USFS and others are planning stream improvements to increase the habitat for Browns and Rainbows.
The river continues another five miles before reaching Lake George. If you want to catch nice fish, and not keep them, head for the upper section of the canyon. The lower part has been notoriously over-fished and abused.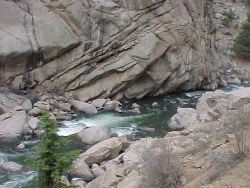 Deep pools in Elevenmile Canyon
Since this portion of the South Platte is controlled by releases from Elevenmile Reservoir, it can be fishable almost all year. And, if you're getting blown to pieces in South Park, drop in at Elevenmile Canyon.
As with other South Platte waters, you'll need to be adaptable to how the fish are behaving (i.e., their picky eating habits). Nymphs are always a must, especially in the deeper pools. The South Platte favorite emerger, the RS2, will be handy at times in Elevenmile. And for dries, check and see what is hatching - almost every type of Colorado bug which hatch in this canyon at some point during the year.
There is a day-use fee, currently $6. This is paid at an entry station near the east end of the canyon.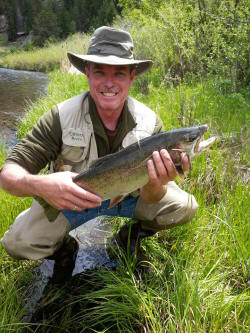 Ken Blasko with a nice 25" Rainbow caught in the canyon (Photo courtesy of Ken Blasko)
Resources:

Buy South Platte Downloadable Digital Fishing Maps Click here for info or to purchase.

Buy an ebook on CD: Fifty Colorado Tailwaters: A Fly Fisher's Guide Click here for info or to purchase. Includes the Elevenmile section of the South Platte

Click here to buy topo maps for this area, . You need map 152 for the South Park area covering Spinney, Elevenmile and Antero Reservoirs plus Elevenmile Canyon and the South Platte in much of South Park. Maps are produced by National Geographic Maps.
Check out the web site for Pike Nat'l Forest for info on camping, hikes, drives, and fishing in the area.
Special Rules:
From Elevenmile Dam downstream to Wagon Tongue Gulch Road bridge at Springer Gulch - fishing with artificial flies or lures only; catch and release
Where to stay?
There are National Forest campgrounds scattered throughout the canyon. You can reserve space for some of these places online at Recreation.gov. Campground names include Spillway, Springer Gulch, Cove, and Riverside. You can also stay in Lake George.
Info on other South Platte areas:
How to get there?
Take Hwy 24 from Colorado Springs or South Park to the town of Lake George. Turn south on Cnty Rd 96, which is well marked. There is a an entrance station near the eastern end of the canyon (where you pay the fee)
From Elevenmile Reservoir - there are forest roads that snake around and will bring you into the canyon. The roads are rough - 4WD is highly recommended.
Map:
Stream Flows
South Platte below Elevenmile Reservoir - near Lake George
---