Steamboat Lake - Year 'Round Fun
by K. Christopherson
One of the three lakes in Colorado to carry a gold medal designation is Steamboat Lake. This lake is actually a reservoir, created in 1967-68, and covers about 1050 acres.This stillwater offers not just great fishing, but also terrific camping, scenery, and plenty of other activities in any season.
I'm not much of a lake fisherman (whoops, fisherwoman) any more, but this setting really surprised me. Having spent a lot of time in Steamboat, I had avoided this area thinking it would be another brown reservoir, no trees, heaps of people. But, think again! Steamboat Lake is beautiful, with pine trees near its banks and mountains rising all around. Crowds - yea, sure, in places but not too hard to get away from.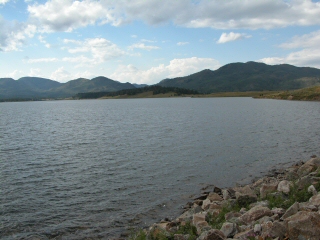 Mountain vistas from the shoreline
Steamboat lake is a Colorado State Park, so it will cost you seven bucks to get in (per carload, per day - 2016 prices), or have your annual State Parks Pass. There are several access points around the lake - pick the parts where motorized craft aren't allowed. Bring your waders or float tube so you can sneak up on those fish (cutthroats and rainbows) and get even further away from shore casters and kids.
One of the nicest areas to fish is near the dam. There is a separate entrance off the highway, called Sage Flats, just south of the visitor's center. From the parking lot, it is about a ten-minute walk to the dam. You can cross the dam and fish along the grassy shore. Sometimes this is a good area to catch some of the larger trout. It doesn't get crowded over on this side - the short hike seems to keep people closer to the parking areas.
This park is open year 'round. From Spring to Fall, it has wonderful campgrounds with all the amenities. There's so much to do in this area besides fishing in Steamboat Lake. You can fish many of the small streams north of here, or other area leaks such as Pearl or Hahn's Peak.
There's ice fishing on the lake in winter, plus all sorts of other snow activities. The campgrounds are closed in winter, but the parking lot near the marina has 16 spaces with electric hookups for RVs, etc.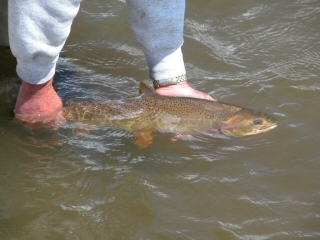 A large Snake River cutthroat, who took a big dry on a very windy day.
How to get there?
Drive north from Steamboat on Road 129. This leaves US Hwy 40 on the west side of Steamboat Springs (near the 7-11). Go about 26 miles north to the State Park. There are several entrances in. The best one is furthest north, where you can drive around to Rainbow Ridge or Meadow Point. Be sure to stop at the visitors center on Road 129. There are nice wildlife displays and they can tell you the current regs and conditions. There is a marina in the park where you can rent boats and pick up supplies.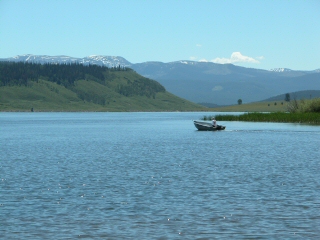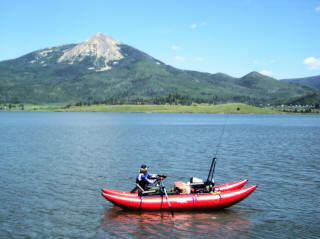 Boats are allowed, and for rent at the marina, Or bring your own craft!
Things to know and do:
Hahn's Peak (a triangular-shaped mountain northeast of the lake) was a center for gold mining in the 1860's. Joseph Hahn spent only a couple of years here, dying after a hard winter. There are several remains of the old mining towns around the base of Hahn's Peak.
There are lots of other areas to fish - the Elk River, many mountain creeks, Hahns Peak Lake, and Pearl Lake (also a state park).
Activities in the area include fishing (of course), hiking, swimming, horse-back riding, and exploring the many roads and trails in the area.
Rules:
State regs - check when there in case any changes have be made.
Where to stay?
There is camping in the park and the neighboring area, plus "camper cabins" for rent (check at the marina). There is a guest ranch on the north side of the lake, and other cabin accommodations in Clark and Columbine.
Buy an ebook: Fifty Colorado Tailwaters: A Fly Fisher's Guide Click here for info or to purchase. Includes the small tailwater at Steamboat
Click here to buy a topo map for this area. You need map 116 for this area. Maps are produced by National Geographic Maps
Click here to buy an Ebook about Trout fishing on Colorado State lands - includes Steamboat Lake.
Map:
View Larger Map
---