Pearl Lake - A Fishing Gem
by K. Christopherson
Pearl Lake, located north of Steamboat Springs and east of Steamboat Lake, offers a peaceful escape to fish for cutthroats and grayling on a smaller-sized lake.
The lake, covering 166 surface acres, became a state park in 1964. It fishes well from shore, or from smaller boats (wakeless). In summer the fish may go deeper (depending on temps) but will often come to surface during hatches or in early-morning and dusk.
Since Pearl Lake is a Colorado State Park, it will cost you seven bucks to get in (per carload, per day - 2016 prices), or have your annual State Parks Pass. There are two parking areas separate from the campground. One has a boat ramp and short dock. The other offers picnic tables and a wildlife viewing platform. Both have vault toilets.
There is a good trail along the west side of the lake that leads to the dam. From the dam, a trail continues on the east side but is a bit tougher to walk. The trail ends near the marshy, grassy area where Lester Creek enters Pearl Lake. There is a small section of private land on the north shore, east of the campground.
This park is open year 'round. From Spring to Fall, it has a nice campground (non-electric). Two yurts are also available for rent. Wakeless boating is allowed, and stand-up paddleboards are very popular. Any trailered boats need to be inspected for ANS (Aquatic Nuisance Species) at Steamboat Lake prior to launch.
Ice fishing is allowed in the winter (flies and lures only) as well as cross-country skiing, BUT you need to ski, snowshoe or snowmobile in as the roads are not plowed.
How to get there?
Drive north from Steamboat on Road 129. This leaves US Hwy 40 on the west side of Steamboat Springs (near the 7-11). Go about 23 miles north and turn east on Pearl Lake Road. It is two miles from there to the park.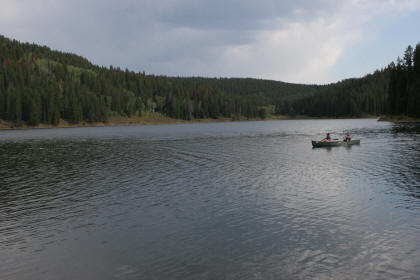 Photo courtesy Colorado Parks and Wildlife
Things to know and do:
Hahn's Peak (a triangular-shaped mountain northwest of the lake) was a center for gold mining in the 1860's. Joseph Hahn spent only a couple of years here, dying after a hard winter. There are several remains of the old mining towns around the base of Hahn's Peak.
There are lots of other areas to fish - the Elk River, many mountain creeks, Hahns Peak Lake, and Steamboat Lake (also a state park).
The Steamboat Lake Visitors' Center has lots of info and is only about 3 miles away. The Steamboat Lake Marina sells basic supplies and fishing licenses.
Activities in the area include fishing (of course), hiking, swimming, paddle boarding, horse-back riding, and exploring the many roads and trails in the area.
Rules:
Fly or lure only. Bag and possession 2 trout, minimum size 18". Regs apply to inlet and outlet streams up to 1/4 mile from lake.
Where to stay?
There is camping in the park and the neighboring area (including Steamboat Lake State Park). Cabin accommodations can be found in Clark, Hahns Peak Village and Columbine.
Click here to buy a topo map for this area. You need map 116 for this area. Maps are produced by National Geographic Maps
Click here to buy an Ebook about Trout fishing on Colorado State lands - includes Pearl Lake.
Map:
View Larger Map
---