Hiking the Flat Tops -
Colorado's Causeway Lake Trail
The Flat Tops offers great hiking and backpacking opportunities as well as fishing in a combination of streams and mountain lakes.
Our first view of Causeway Lake from more than a thousand feet above is of a polished sapphire tucked away among tall green spruce. It is set in a mounting of Ice Age rubble carelessly strewn about the landscape, and rests at the bottom of a thousand-foot wall of basalt. Randy Smith and I pause a while to enjoy the magnificent vistas. Approaching weather and the high lake full of cutthroats urge us to hurry and establish camp.
The trail to Causeway Lake is one of more than sixty accessing the Flat Tops Wilderness Area. 267 square miles in size, the wilderness is a high plateau at an average elevation of nearly 11,000 feet. No other region in the US compares with the Flat Tops.
Causeway Lake, one of hundreds in the Flat Tops home to cutthroat trout, the native species of the region, is a five-mile trek. It's far enough that crowds are sparse. The solitude of the setting tempted us to make the trek. We felt our efforts were rewarded. The fish cooperated. In three days, we spoke with only four other humans, two of whom were wilderness rangers.
To reach the lake, we had to cross a divide beneath the Devils Causeway, a long, narrow ridge only four feet wide at one point. Its thin wall is a remnant left when glaciers attacked from two directions, carving a pair of precipitous 1000-foot drop-offs. The trail, which is steep on each side of the Causeway but not difficult walking, begins at Stillwater Reservoir at an elevation of 10,360 feet and climbs 1,230 more in the first three miles before descending to the lake.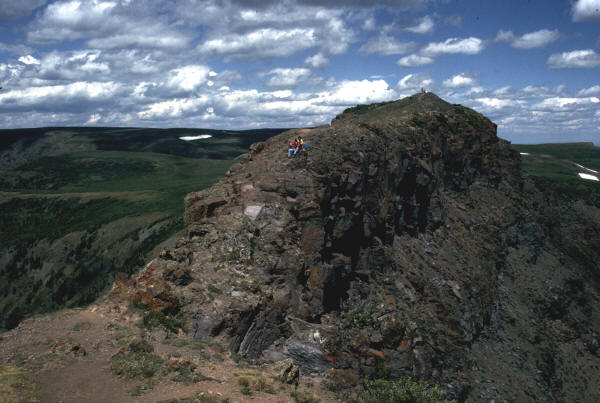 Devil's Causeway offers spectacular views, and is a very unique hike
This was my first hike into this region of the Flat Tops. My two Golden Retrievers, one only five months old, tagged along. Randy restrained my pup while I walked across the narrow ridge that more than a few hikers avoided. Though the exposure is impressive, it's not a real hazard. I paused to enjoy the sight of forest and lakes that extended many miles in all directions. To the south stands Flat Top Mountain, the highest peak in the wilderness at 12,354 feet. West across the plateau, Big Marvine and the three Little Marvine Peaks appear as small bumps on the nearly level surface. After Randy took his turn on the ridge, we resumed our journey.
A few miles north from camp lay more lakes; Round, Long, Deep, and East Lost sitting below the Lost Lakes Peaks. Most have fish, though there's more to do than toss a fly in the waters. July and August are peak months for wildflowers. Paintbrush, fireweed, red elephants, and others decorate the ground as a multi-colored shag. Columbines hide in the shade of aspen groves.
Wildlife, especially elk, live here in large numbers. They're shy, though, preferring to avoid contact. Look for them from above when you can view meadows hidden among the dense spruce forests. Other critters in the area include marmots, pikas, chipmunks, squirrels, and birds. Coyotes often serenade campers after dark. Black bears and lions call the wilderness home but are rarely observed.
Even in a wilderness, malfeasance sometimes occurs. A place about two miles northeast of Causeway Lake is named Dead Mexican Gulch. The story related by a ranger told of two sheepherders arguing more than a half-century ago. Words led to blows and one murdered the other, whose body is buried in a poorly marked wilderness grave.
Three days were about right to visit the area. It gave us time to test the waters, photograph abundant flowers, and awaken to a mist covered lake at sunrise. Neither of us wanted to leave but other trails compelled us to explore further.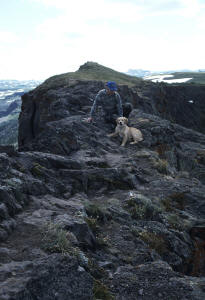 The author with one of his Goldens on Devil's Causeway
Information:
Getting There: From Denver, west on I-70 to Wolcott, then north on State Highway 131 43 miles to Yampa. From there, west 17 miles on Routt County Road 7, which becomes Forest Road 900, to Stillwater Reservoir parking area. Hike west along the north shoreline one mile on Trail 1119 to junction of Trail 1120, then north on 1119.
Permits, Restrictions: Free self-service permits at trailhead. Camp at least 100 feet from water and trails.
Season: Late-June through mid-October. Snow drifts can be a challenge into July when crossing Devils Causeway. Expect rain. September brings snow storms that are usually brief but can accumulate to more than a foot. Between autumn storms, anticipate clear skies and brilliantly colored aspens.
Read an article about fishing the Flat Tops Fly-Fishing the Flat Tops - a photo essay

An ebook by Al Marlowe, " Flat Tops Wilderness Trails", gives all the info you need for hiking the various trails in the wilderness area. Available through TroutGear.com. The digital ebook (in pdf format) will help guide you along the trails to the lakes of the Flat Tops. The cd is read with Adobe Reader (free) and contains color maps and trail descriptions. Also available as download. Or available from Amazon as paperback or Kindle

Al has also written an ebook, "Fly Fishing the Flat Tops". You can order a copy through TroutGear.com. This digital ebook (in pdf format) gives descriptions and locations of almost every fishing opportunity in the Flat Tops. The cd is read with Adobe Reader (free) and contains color maps and photos. Also available as download. Or available from "Amazon as paperback or Kindle

Click here to buy a National Geographic/Trails Illustrated topo map for the area. You need map 150 for the Northern Flat Tops area, Trappers Lake, and the White River. Map 151 covers the southern Flat Tops area.
Copyright © by Al Marlowe. No reproduction, linking, or copying without permission. Reach Al at www.hiddenlakespress.com
---