The Flat Tops and Trappers Lake -
a photo essay
Thinking of summer? Planning your trips? The Flat Tops offers a unique combination of streams and mountain lakes, with a variety of fishing opportunities.
The Flat Tops Plateau in northwestern Colorado was created by basalt and andesite flows only millions of years ago (young by Colorado standards). This area is home to numerous lakes and streams. A large part of the Flat Tops, 267 square miles, is designated as wilderness. Trappers Lake is a wild trout water, holding the largest concentration of Colorado River cutthroats in the world. The Colorado Division of Wildlife collects spawn here in June and the fingerlings produced are used to stock other Colorado waters.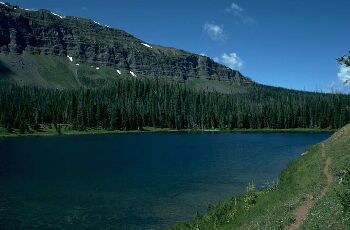 East Lost Lake is reached by a long hike or horseback ride, assuring solitude. The lake is home to Colorado River cutthroats.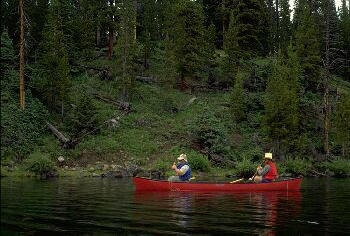 Within the wilderness boundary, Trappers Lake is limited to access by float tubes and hand propelled boats. Watch for osprey fishing the lake.
Trappers Peak, 12,002 feet, comes into view on the Wall Lake Trail. The trail begins near Trappers Lake and climbs 1400 feet in three miles. Once on top of the plateau, Wall Lake is another two miles over a nearly level landscape.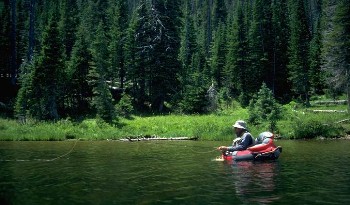 Little Trappers Lake is reached by a trail beginning near the cabins on the east side of Trappers Lake. From there it's a 3/4-mile hike.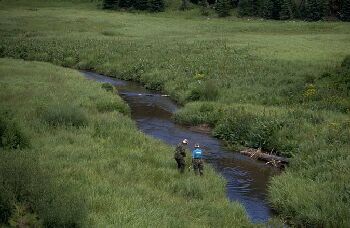 The Flat Tops Wilderness Area has countless small streams for trying your luck on cutthroats and brookies.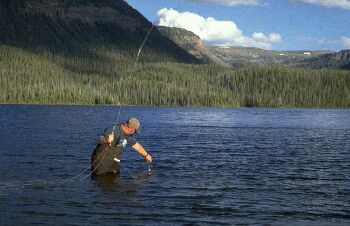 Trappers Lake cutthroats find it hard to resist a callibaetis imitation. The hatch peaks in July. All cutthroats over 10 inches must be released. It's a rare event to catch a keeper. Anglers are asked to keep all brook trout, however, as they can devastate the cutthroat population.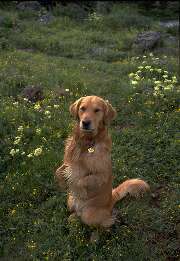 Even dogs love the Flat Tops!
Read another story about fishing Trapper's Lake Fly-Fishing Trappers Lake - A Flat Tops Treat
OR read about Hiking and backpacking the Flat Tops near Devils Causeway

Al has written an ebook, "Fly Fishing the Flat Tops". You can order a copy through TroutGear.com. This digital ebook (in pdf format) gives descriptions and locations of almost every fishing opportunity in the Flat Tops. The cd is read with Adobe Reader (free) and contains color maps and photos. Also available as download, or on Amazon, or Barnes and Noble.

Another ebook by Al Marlowe, " Flat Tops Wilderness Trails", gives all the info you need for hiking the various trails in the wilderness area. Available through TroutGear.com. The digital ebook (in pdf format) will help guide you along the trails to the lakes of the Flat Tops. The cd is read with Adobe Reader (free) and contains color maps and trail descriptions. Also available as download. Or available from "Amazon as paperback or Kindle

Click here to buy a National Geographic/Trails Illustrated topo map for the area. You need map 150 for the Northern Flat Tops area, Trappers Lake, and the White River. Map 151 covers the southern Flat Tops area.
Copyright © 2008 by Al Marlowe. No reproduction, linking, or copying without permission. Reach Al at www.hiddenlakespress.com
---