Williams Creek
A gem in southern Colorado
by K. Christopherson
The rugged San Juan Mountains of southwestern Colorado make great eye candy. And they also produce some great fishing. This is an area where fishing is about more than just landing a trout. This is a place where you can experience the beauty and peace of the outdoors, enriching it by having a fly rod in your hand. One place to enjoy this experience is Williams Creek, northwest of Pagosa Springs, nestled up on the south side of the San Juans.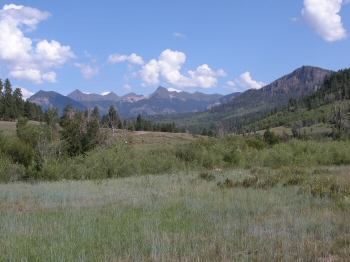 Williams Creek is located in beautiful country
Williams Creek is almost a perfect trout stream. It's obvious that stream improvements have been done in parts, with large boulders placed to enhance flow and provide some cover. It's fairly easy to access a lot of the creek, and it flows through mostly public lands. This was a great trout stream several years ago, with rainbows rising to take a dry in the summer.
However, the drought of the early 2000's took its toll. Water trickled over the dam. A large part of the fish population was lost as water levels dropped and temperatures warmed.
But luckily for everyone, recent years have seen larger snowpacks and increased flows. The fish are making a comeback, supplemented by some stocking (including Cutthroats). You might catch smaller fish, but enjoy the area and come back in a couple of years. Just release your fish for now - let them thrive and reproduce so that the river continues its comeback.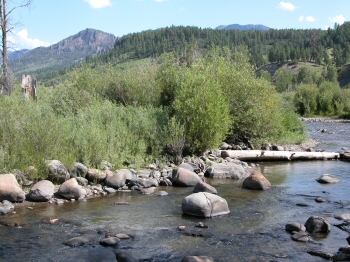 A modest stream, but can be good fishing
Williams Creek flows through almost entirely public water from its inception to merge with the Piedra. The headwaters lie in the Weminuche Wilderness. This area is resplendent in some of Colorado's best scenery, but demands a good day hike, or overnite. Upon exiting the wilderness, it flows through San Juan National Forest, in and out of Williams Creek Reservoir. A short stretch lies on private land, and then it's back onto forest property. The last section goes through a fairly narrow glacial canyon before meeting the Piedra.
Williams Creek is a tailwater. It's not a huge tailwater, but one nonetheless. In order to get to the tailwater, you'll need to drive to the reservoir, walk across the dam, and down the grass slope. Portions of the tailwater below the dam are wooded, and several large trees have fallen into the stream. However, if you can figure out how to fish it, this part of the creek holds some large trout. There is a small portion of private land downstream, hence the access from the dam.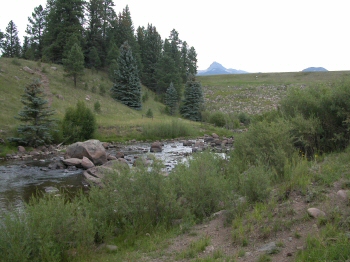 The small tailwater can hold some large trout
If all else fails, you can fish in Williams Creek Reservoir. This is a gorgeous spot and a reasonably large reservoir. It holds several species of trout including Colorado River Cutthroats, plus Kokanee Salmon. There are campgrounds on the lake, and boats are allowed. It's reasonably easy to hike around the reservoir. The Piedra River is also nearby and you can read about it here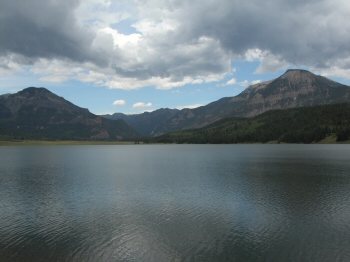 Williams Creek Reservoir - always an alternative
How to get there?
Going west from Pagosa Springs on Hwy 160, take the Piedra Road to the north. Follow the road (it turns into FR631) for about 20 miles to the Piedra bridge. After crossing the bridge, you will soon be following Williams Creek. The reservoir is at the end of the (decent) forest road.
Resources:
Click here to buy a topo map for this area. You need map 140 which covers Williams Creek and the Reservoir. Maps are produced by National Geographic Maps
Buy an ebook on CD: Fifty Colorado Tailwaters: A Fly Fisher's Guide Click here for info or to purchase. Includes information on Williams Creek (and some other places to fish!)
Check out the web site for San Juan Nat'l Forest for info on camping, hikes, drives, and hiking in the area.
Special Rules:
No special regs in the creek or reservoir
Where to stay?
There are a few National Forest campgrounds on or near Williams Creek. Some of the campgrounds (USFS) near the reservoir actually have a few plugins and are really nice! There are also some cabins available near Piedra Ranger Station, or you can stay in Pagosa Springs.
---