Huge Taylor Trout
The Taylor tailwater - home to those huge Rainbows feasting on mysis shrimp. Every day of the year anglers attempt to land one of these large fish hanging out in the short section of public access below the dam.
Todd Andersen, Denver area guide and well-known angler, guides on the Blue River. When he goes flyfishing on the Taylor it's for fun. In his own words about fishing the Taylor tailwater, "That's my own big fish fix".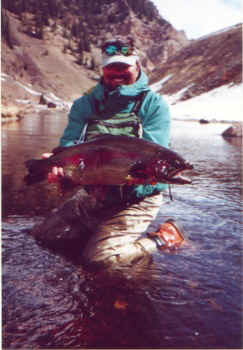 Todd Andersen with a 15-pound, 21-inch girth Rainbow in April 2001
Fishing for these large pigs takes patience, luck, and skill. The fish prefer very small flies patterned after their diet of mysis shrimp and other tiny nymphs. If you hook into one of these trout, landing it will take awhile.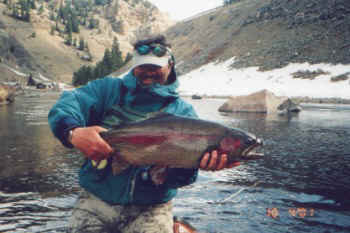 Another shot of Todd with the large Rainbow
On April 24, 2000, Tom Gower landed what is a probable new record for a Colorado Rainbow. He caught this 23-pound Rainbow with a #22 hare's ear using a 5x tippet and a 6 wt. rod. This trout is 32 inches long and has a 23 inch girth. The Rainbow took the fly under the bridge.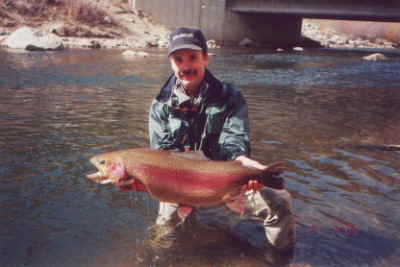 Tom Gower with the possible CO record Rainbow
Rules for the Taylor tailwater:
Public access is prohibited from the top of Taylor Dam to 325 yards downstream. From 325 yards downstream to the upper boundary of Cockrell private property (about 0.4 miles): fishing with artificial flies or lures only, and all fish must be returned to the water immediately.
Resources:

Click here to buy a Downloadable Digital Fishing Map for the Gunnison from the headwaters to Blue Mesa Reservoir. Includes the East and Taylor Rivers

Click here to buy topo maps for this area. You need maps 131, 132 for the Taylor River from above Taylor Res. to Gunnison. Maps are produced by National Geographic Maps

Buy an ebook on CD: Fifty Colorado Tailwaters: A Fly Fisher's Guide Click here for info or to purchase. Includes the Taylor tailwater
More pix of big Taylor trout
Info on the Taylor River and the area
All photos are copyrighted by Todd Andersen, 2000, 2001. No use or copying of the photographs without permission of Mr. Andersen
---