Stay and Fish Awhile: Tarryall Creek
by K. Christopherson
From modest beginnings in the Park Range, Tarryall Creek turns into more of a river before joining its big brother, the South Platte.
The Tarryall was named by miners. After discovering placer gold in this creek in 1859, they named it "Tarryall" as a place to stay awhile. After all, they were finding lots of nuggets, many the size of peas. Their less fortunate comrades, arriving later, were angered by the possessiveness of the original group and nicknamed the area "Graball". These less-fortunate miners moved on to settle in Fairplay, named to suggest a more reasonable place than Tarryall.
Tarryall Creek gets it start on the slopes of Mount Silverheels. Flowing southeast into South Park, it is joined by several streams including Michigan and Jefferson Creeks. After flowing about 20 miles from its source and traveling through South Park, it enters Tarryall Reservoir. Here the river changes character. Upstream, the Tarryall meanders through mostly open grazing land. Downstream from the reservoir, it flows through a forested canyon, bounded by reddish-granite walls. There are meadows where the canyon opens up - there is also lots of brush long the river.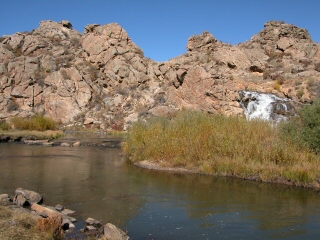 Fishing the tailwaters below the dam and diversion structure
Access is very limited along most of the river. County road 77 follows the Tarryall from it junction with Michigan and Jefferson Creeks (just south of the town of Jefferson) to the point where the creek turns east to meet the South Platte. There are a few public access points upstream of the reservoir, including a portion of Tarryall Reservoir State Wildlife area (about 2 miles upstream of the reservoir). The reservoir offers fishing for trout and pike, with access to upstream and downstream parts of the creek. Downstream, you can fish the tailwaters below the dam and diversion. There are some nice pools and good shore fishing. Public land exists for about 1/4 mile from the dam downstream. (NOTE: Tarryall Reservoir was drained in 2002 for dam repairs; it is starting to fill in 2004. In 2005 it was re-opened).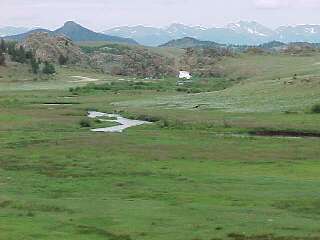 Looking northwest at the creek, towards the diversion structure at Tarryall Reservoir
Traveling down Road 77, most access is private. Fishing is available at several newly-opened sections through the South Park Fly Fishers. Other access is available through the Rocky Mountain Angling Club. There is public access at the Ute Creek Trailhead, at the Twin Eagles picnic area/campground, and at Spruce Campground. Further south, the land is mostly in Pike National Forest, but access gets more difficult. If you're adventurous, Forest Road 210 will lead you to trails from which you can access perhaps the best part of the stream, near its meeting with the South Platte. Be aware that this road is rough (4x4 or ATV) and a couple of miles of hiking are required to reach the Tarryall/South Platte confluence. The last couple of miles of the Tarryall have been designated as Wild Trout Waters.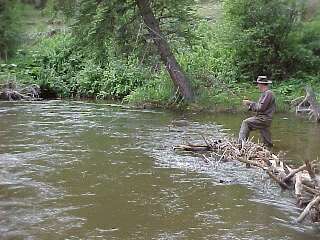 Angling for browns in a pool near Ute Creek trailhead
Don't forget the reservoir. Since re-opening in mid-2005, this still water seems to be fishing great. You can camp in several areas and access almost the whole shoreline by walking (boats are also allowed). Try the northern shore where you can fish either in the reservoir, or the inlet above. A good section of Tarryall Creek is accessible from the inlet upstream.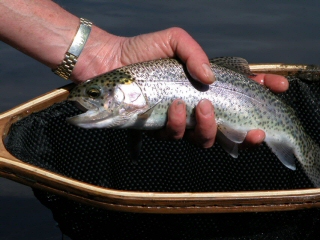 Some nice rainbows are found in the reservoir and inlet waters
How to get there?
From South Park: Turn south off Hwy 285 at Jefferson (signed to Tarryall Reservoir). Take County Road 77 southeast - this follows the creek for much of its journey.
From Lake George/Hwy 24: Turn north off of Hwy 24 just north of Lake George. Go about 5 miles north to Tarryall Creek, or turn off south of here on Forest Road 210 to access the creek via trails.
Things to know and do:
Buy an ebook on CD: Fifty Colorado Tailwaters: A Fly Fisher's Guide Click here for info or to purchase. Includes the Tarryall tailwater.
Click here to buy an Ebook about Trout fishing on Colorado State lands - includes info about the Tarryall River and Reservoir SWA.
Access on several sections (5 miles total), for a rod fee, can be booked with South Park Fly Fishers
Check out the web site for Pike Nat'l Forest for info on camping, hikes, drives, and fishing in the area.
Info on the Tarryall Reservoir State Wildlife Area can be found on the Colorado Division of Wildlife website
Click here to buy topo maps for this area. You need map 105 for most of the river and map 137 for the southern portion where the Tarryall meets the South Platte . Maps are produced by National Geographic Maps
Topaz has been mined in the Tarryall Mountains - you can still find some if you're willing to hike. Look for lots of quartz pegmatites too.
Rules:
Normal state regulations for most of the creek and reservoir. Make sure to be careful about access. Always ask to fish on private land.
Where to stay?
There are campgrounds at Twin Eagle and Spruce downstream from the reservoir, and camping at the reservoir. Ute Trail River Ranch also provides private access to Tarryall Creek. Both are located a few miles south of the reservoir right on County Road 77. They offer restored log cabins, dating back to the mining days.
Map:
View Larger Map
Stream Flows
Tarryall Creek below Tarryall Reservoir
Tarryall Creek above Tarryall Reservoir
---