St. Louis Creek
by K. Christopherson
If you are in the Granby/Winter Park area and yearn for some smaller stream fishing, ten miles of creek await you on St. Louis Creek.
Situated SW of Fraser, St. Louis Creek offers good access, uncrowded water and fine brookie fishing.
Access is easy - take Hwy 73 SW from Fraser - it follows the creek for most of it's journey. There is also a mountain bike trail along the creek (part of the Winter Park/Fraser trail system). The gradient isn't too high - this is great biking and fishing country.
The creek varies in width and averages about 6 feet wide. It's shallow in most places so you'll need to be in your best stealth brookie form. Hip waders or wading boots are useful in order to cross the creek and some of the marshy land. A 3 or 4 weight rod will suit this stream fine, as will a selection of dry flies. Bring along some Adams, midges, gnats, and attractors (such as a royal wulff) in sizes 14-18. In the summer, some grasshopper patterns might also do the trick. Don't forget the bug spray either - several beaver ponds make for good mosquito country!
The creek bank foliage varies from pine trees to shore willows. Casting isn't difficult in many areas. Keep an eye out for moose as several have been seen along the drainage.
St. Louis Creek lies in the Fraser Experimental Forest, a portion of the Arapaho/Roosevelt National Forest. Hence, camping is allowed only is USFS campgrounds - there are two situated on the creek.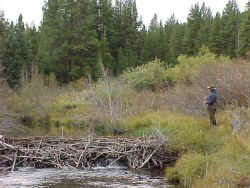 Like beaver ponds? You'll find some here.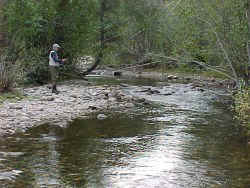 Gin-clear water and dry fly country
Resources - How to get there:
Take Hwy 40 to Fraser. Turn west on Eisenhower Drive (Yep, he fished here). Turn south on Norgren Road; turn west on Hwy 73. Follow about 2 miles until you are on forest lands. The creek will be to the south of the road. There are several turn-outs and small parking areas along the road.
Resources - Plan your trips:
Camping: dispersed camping is not allowed in the Fraser Experimental Forest
Click here to buy a Trails Illustrated topo map for the area. You need map 103. Maps are produced by National Geographic Maps
---