Beaver Creek and Skaguay Reservoir - A 'Find'
by K. Christopherson
Tucked up in the hills southwest of Colorado Springs, in amongst the old and new gold mining activity, is one of the greatest little tailwaters in the state. It might seem a bit confusing to get to, but the travel is worth it, as your pot of gold will be Beaver Creek.
Beaver Creek is a smallish stream (maybe 10 feet wide). After it leaves the dam at Skaguay Reservoir, it makes a 12-mile journey through a secluded canyon, all of which is within Beaver Creek State Wildlife Area. The only way in and out is by hiking. However, portions of the hike are mostly low gradient, and the scenery and fishing are well worth it.
The stream abounds with small to medium rainbows and cutthroats, with a few brookies thrown in. This is a great place for non-winter fishing where these wild trout are very eager to fight over a dry fly. Take your lunch, and your camera or binoculars, since this is also a terrific spot for animal and bird watching.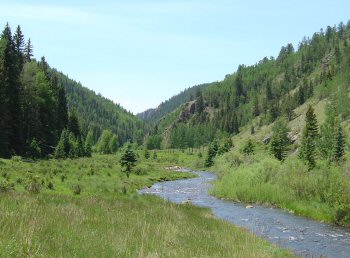 Beaver Creek heading into the canyon
If you're really ambitious, you can hike or up down the canyon, and camp along the way. The trip will take two to three days. Although the canyon is fairly open at the north and south ends, the majority of it is very narrow. The canyon walls climb up as high as 1000 feet above the stream. The complete canyon trek requires some negotiation of narrow sections and minor rock scrambling. Be prepared to encounter bears and take the proper precautions. Most of this area is a "Wilderness Study Area" for good reason - it is home to not only bears, bit also mountain lions, bobcats, deer, elk, bighorn sheep, eagles, hawks, and more. Also make sure to take water, food, jacket and some form of communication (like two-way radios). Over the 12-mile length, the elevation drops 2800 feet, so it's more enjoyable to hike down the canyon than up.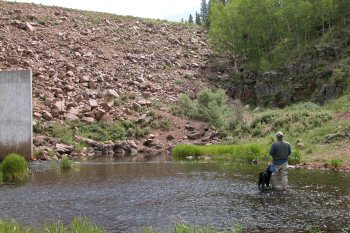 Tailwater pool.
The tailwater section is easily accessed by climbing down the side of the dam, or walking on the access road. This is the only section that is fished 'heavily', meaning you might see two or more other anglers. There are several types of water here from pools to cutbanks to riffles. The rainbows seem to be especially fond of the large culverts.
Like lake fishing? The reservoir is 174 surface acres and small boats are allowed (no wake). The reservoir is stocked with rainbows, and some grow to get quite large. There are also Pike in the lake. But this lake is popular in summer with the usual assortment of kids, dogs, cars, noise, and even some tourists. The canyon and stream are by far the more pleasant fishing experience.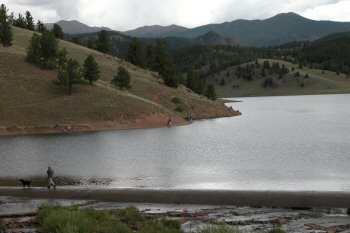 You can walk across the dam - make your friends think you are 'walking on water'!
How to get there?
From Victor, go 1/2 mile east on County Rd 67 and then 6.5 miles east on County Rd 861. Watch for signs. This gets you to Skaguay Reservoir and the upper end of the tailwater and creek. To reach to southern end, go east from Canon City on Hwy 50 for about 4 miles, then north on Hwy 67 (Phantom Canyon Road) about 1 mile, and east on County Road 132 (Beaver Creek Road) to the parking area.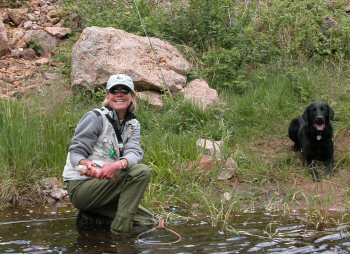 Smallish rainbows near the dam
Things to know and do:
Phantom Canyon Road parallels the river, to the west, from Victor to Florence. The road is gravel, winding and a bit rough but the easiest way to get from one starting point to the other. It is also part of the "Gold Belt" National Scenic Byway. More info on www.goldbeltbyway.com There are many historic sites near Victor and Cripple Creek telling and showing the story of Colorado's gold mining history.
Rules:
State regs on creek and on lake. Only "wake-free" boating is allowed on the lake.
Where to stay?
There is camping allowed at the reservoir, but there are no services except a restroom, and limited space. There are lots of places to stay and camp around Cripple Creek and the area.
Buy an ebook on CD: Fifty Colorado Tailwaters: A Fly Fisher's Guide Click here for info or to purchase. Includes the tailwater on Beaver Creek below Skaguay Reservoir.
Click here to buy an Ebook about Trout fishing on Colorado State lands - includes info about Beaver Creek SWA.
Click here to buy a topo map for this area. You need map 137 for this area. Maps are produced by National Geographic Maps
Map:
View Larger Map
---