Wild River, Wild Trout:
Cache la Poudre River
by Karen Christopherson
The Cache la Poudre River is the only river in Colorado designated as a "Wild and Scenic River" by the National Park Service. It also has two sections of the river which have been designated as Wild Trout Waters by the Division of Wildlife.
According to legend, the river was named in the 1830's, when a group of explorers (possibly en route to the Green) was caught in a heavy snowstorm near the banks of the river. They had to "cache la poudre" or "hide the powder" in order to lighten their load, returning to retrieve the gunpowder in the spring.
This river wanders through beautiful canyons, offering many types of water and scenery for the flyfisher. Whether you like smaller streams, pools, raging water, riffles - this river has it all. And the great news is that there is also lots of access.
Access- Plenty of it
The Poudre starts in Rocky Mountain National Park. If you're up for a hike, you can fish the headwaters by taking the trail off Trail Ridge Road. Poudre Lake is just off the road and the trail heads north along the river through the park and into Comanche Peak Wilderness
The Poudre and Joe Wright Creek meet near Hwy 14, which is the main highway north of Rocky Mountain Nat'l Park, connecting the Fort Collins area with North Park. Highway 14 follows the Poudre from Joe Wright Creek to Highway 287, a journey of about 48 miles.
Access is available at numerous spots along the road. There are trailheads, campgrounds, picnic areas, and turn-outs, mostly on USFS land. There is also access at Bliss State Wildlife Area, the state fish hatchery and the Poudre State Wildlife area. There is private land along the river, but by far a majority is public. Great fishing! Drive along the highway until you see your spot, no other fishermen, and access. You're in!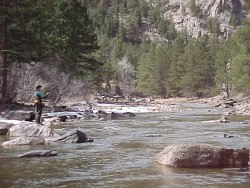 Canyon fishing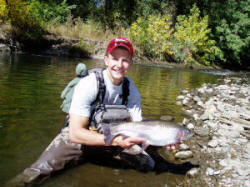 Some nice rainbows are growing up on the Poudre (photo courtesy Scott Murdoch)
The Poudre is a great river for camping and fishing. Numerous USFS campgrounds are located along Hwy 14, and on the river. Most campgrounds are "first come, first served". Both tent and RV sites are available, but check campground info for length of sites (for RVs). There is an online zoomable map of the forest service which shows campgrounds, and some fishing access, locations. You can check for info on campgrounds at a clickable map on the Arapaho/Roosevelt Nat'l Forest website. Reservations can be made for 4 campgrounds (Narrows, Ansel Watrous, Mountain Park, and Stove Prairie) at Recreation.gov. One campground, Mountain Prairie, has sites with electric hookups.
There are lots of other great areas to fish - go over to North Park and fish in numerous rivers and creeks, including the North Platte. Drive north off the western end of Hwy 14 and fish the Laramie. Fish the loads of lakes in Rocky Mtn Nat'l Park and the nearby wilderness areas - this is where you will find Greenback Cutthroats.
The area can be crowded in summer - not just fisherman frequent this river - it is also a popular region for kayaking, rafting, hiking, or just getting-away-from-it-all. So, plan accordingly, making sure you have your lodging organized and your patience cap on for the traffic. This is a 2-lane road.
The river is home to several types of trout including rainbows, browns, cuttbows, and cutthroats. However, Brown Trout are the dominant species. As you travel the river, look for bugs and hatches. Make sure to have midge and BWO (blue-wing olive) flies as these can hatch over much of the year. Else caddis, mosquito, mayfly species, and grasshoppers are appropriate during warmer parts of the year. Parts of the river are fly/lure only, catch and release. On the others, fly/lure or bait is allowed. Make sure you know and understand the fishing regulations on the portions of the Poudre you intend to fish.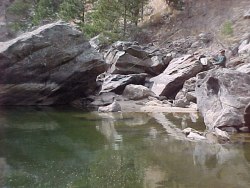 A nice clear pool
Resources/Other Info:

Click here to buy a Digital Fishing Map for the Poudre and Laramie Rivers. No shipping - you download the map within hours of ordering

Click here to buy topo maps for this area. You need map 112 for the western part of the river and 101 for the eastern part.Map 200 covers Rocky Mtn. Nat'l Park. Maps are produced by National Geographic Maps

Click here to buy an Ebook about Trout fishing on Colorado State lands - includes info about the Poudre River and area.
Visit the website for Arapaho and Roosevelt National Forest
Rules for the Poudre
Black Hollow Creek upstream through and including Big Bend Campground

Fishing with artificial flies or lures only
Catch and release water for trout

Pinigree Park Road Bridge upstream to west boundary of Hombre Ranch

Fishing with artificial flies or lures only
Catch and release water for trout

Rocky Mtn Nat'l Park to Joe Wright Creek

Fishing with artificial flies or lures only
Bag and possession is two fish

North Fork: From Bull Creek upstream to Divide Creek AND from Milton Seaman Reservoir downstream to Poudre River

Fishing with artificial flies or lures only
Catch and release water

South Fork: From Rock Mtn Natl Park downstream for 1 mile

Fishing with artificial flies or lures only
Catch and release water for trout

State regs on rest of the river. Check for changes in regs or special rules in Rocky Mtn N.P.
Where to stay
There are numerous USFS campgrounds along the river, such as Sleeping Beauty, Big Bend, Aspen Glen, Kelly Flats, Mtn Park, Narrows, and Ansel Watrous. You can reserve a spot in advance. Check www.recreation.gov for info on reserving some camping areas.
There are cabins for rent in some of the small communities along the river such as Rustic and Bellvue.
Else, you can stay in Ft. Collins
---