And Now for Something Completely Different ...
Los Pinos and Cochetopa Creeks
by Karen Christopherson
Okay, you're tired of mountain streams, waders, big water, and trees. Ready for something different? Let's go south of Gunnison and visit some small Wild Trout Streams.
Cochetopa Creek flows north from San Luis Peak, a 14'er in the San Juans. Los Pinos Creek flows northeast from the La Garita Wilderness. They meet and merge northwest of Cochetopa Dome. The portions of these two creeks on the Coleman Ranches are Wild Trout Waters. There is an easement access across ranch property.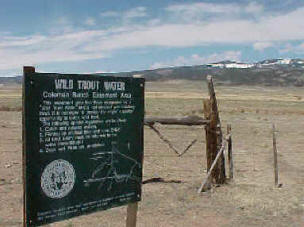 One of the access points on Coleman Ranches
These creeks are narrow and deep, several feet wide and several feet deep. They flow through ranchland where Herefords and Angus graze. The Wild Trout portions of these creeks are found in a broad valley with no trees. Interesting fishing... leave the long rods and waders at home. Bring the sunscreen, food and drinks - the sun can shine here at 9000 feet up, and you are a far way from anywhere.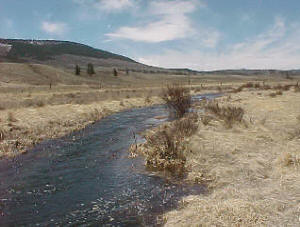 Los Pinos flowing to the northeast
Interesting Info
Coleman beef is raised "naturally" with no hormones or antibiotics added.
Cochetopa means "Pass of the Buffalo" in Ute.
Los Pinos means "The Pines" in Spanish (pretty obvious, I know)
In 1779, the governor of Sante Fe and his army chased Comanches over Cochetopa Pass, as they had been terrorizing his town.
Scouts and Mountain Men traveled through this area in the 1800's. Cochetopa Pass (to the east of these creeks) was one of the main routes used for travel towards Gunnison and the west.
Captain Gunnison's party crossed over Cochetopa Pass in 1853 scouting a route for the railroad. Six weeks later, he and 6 members of his party were killed by Indians in Utah.
John Fremont made it over the pass later that year but the railroad was never built through this pass.
Chief Ouray and the Utes were moved onto the Los Pinos Indian Agency on Cochetopa Creek in the 1870's. It was here, in 1874, that Alferd Packer found his way after allegedly cannibalizing his fellow miners during a cold winter.
Volcanic activity, here and to the south, occurred about 26 million years ago. You can find Obsidian (black volcanic glass) on Cochetopa Dome
How to get there?
From Gunnison, travel east on Hwy 50 about 8 miles to State Hwy 114. Go south about 21 miles and turn south (right) at NN-14 Road. The easement to the creeks, across Coleman Ranches, is on the west and signed. Other access can be found by continuing south on NN-14 Road for about 1 mile to the KK-14 Road running west. Follow this and watch for access. There is some parking available, and signs are posted. There is also more access on Cochetopa Creek further south off road NN14 - turn west on Road 15GG

Click here to buy an Ebook about Trout fishing on Colorado State lands - includes info about the Cochetopa and other streams in the Gunnison area
Info on the State Wildlife Areas from the Division of Parks and Wildlife can be found by clicking here
Rules:
Fishing with artificial flies or lures only. All fish caught must be returned to the water immediately. No dogs, fires, or camping.
Where to stay?
You're pretty limited here. You can disperse camp on National Forest or BLM lands in the area, downstream in the Cochetopa Canyon, or stay in Gunnison.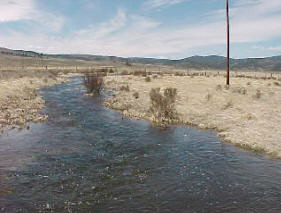 Flowing through ranch country
---