Narrow Creeks and Narrow Gauge:
Osier and Cascade Creeks
by K. Christopherson
Far in southern Colorado, snugged up against the New Mexico border, lie two wild trout streams - Osier and Cascade Creeks. These creeks flow into the Rio de los Pinos and cross under the tracks of the Cumbres and Toltec narrow gauge railway line.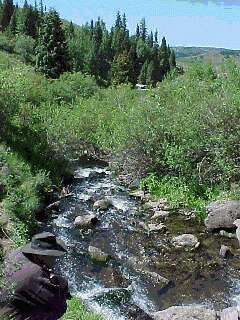 Osier Creek flowing south
Fishing in this area gives one an opportunity to experience some beautiful country, good fishing, uncrowded areas, and a bit of Colorado history. These wild trout streams, Osier and Cascade Creeks, are very narrow but do contain wild trout. They will also require some effort to get to. However, if you tire of small trout and small streams, you can fish the Rio de los Pinos which is reasonably large, easy to wade, and much easier to get to. Time your trip to be here at mid-day and you can see the arrival of the narrow gauge trains into Osier.
Osier and Cascade Creeks flow almost due south off of the Pinorealosa Mountains and into the Rio de los Pinos. This river starts in the South San Juan Wilderness and continues into New Mexico. You can drive, via well-maintained forest roads, to the old train stop of Osier. It is a short hike to Osier Creek (which is partially private), and a short drive/walk to Rio de los Pinos. Getting to Cascade Creek takes more effort - a 1.5 mile hike west along the railroad tracks - at least it's not uphill! You can also drive near the headwaters of Osier and Cascade Creeks on forest roads - but bring a map and a good navigator. Most of the roads are either not marked, or not well-marked.
Two trains run this track every day during the summer. One leaves Chama, New Mexico and the other departs Antonito in Colorado. At about noon to 1 p.m., the trains arrive in Osier, an old rail stop, now a gift store and restaurant. People disembark and spend an hour having lunch and enjoying the scenery. They then embark to return to Chama or Antonito. It's rather surreal - in the middle of nowhere - trains arrive and people eat and shop. It is a spectacular site to see the train travelling around the mountain, puffing its charcoal smoke.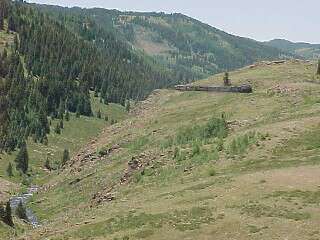 The Cumbres and Toltec narrow gauge approaching Osier.
The Rio de los Pinos is flowing in the canyon below. Cascade Creek is behind the train.
View is to the west from Osier Creek.
The Cumbres and Toltec Narrow Gauge was built in the 1880's to service mines and logging camps, running over the difficult country between southern Colorado and northern New Mexico. The train was restored in the 1970's - the tracks and trains are jointly owned by Colorado and New Mexico with some restoration by historical societies. By the year 2000, it maybe possible to ride the train to Osier, camp overnite and fish, and then continue the train trip the next day.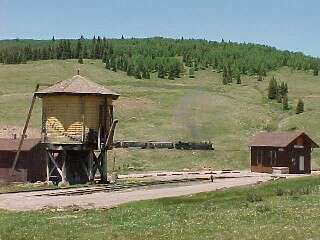 The train approaches Osier station.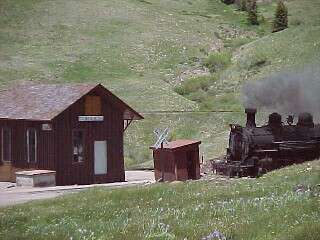 How to get there?
Drive west from Antonito on State Hwy 17. After about 10 miles, turn south on Forest Road 103, signed as Rd. D-5. Follow FR103 to Osier. There is a sign to Osier Creek from the train station. To get to Cascade Creek, follow the train tracks to the west of Osier, about 1.5 miles. To get to the headwaters of both creeks, turn off of FR103 (before Osier) on FR107 and drive north. A topo map or forest map will be very handy for navigating in the area.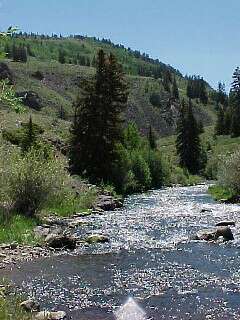 The Rio de los Pinos flowing east from its confluence with Osier Creek
Things to know and do:
Rio Grande National Forest has an office in Antonito where you can buy maps and get information during normal business hours
Great fishing can be found on the Conejos River, north of this area along Hwy 17 and FR250
Keep an eye out for elk and hawks - lots of wildflowers abound in summer.
Rules:
Osier and Cascade Creeks: fishing with artificial flies and lures only; all cutthroats must be returned to the water immediately. Cascade Creek lies entirely in Rio Grande National Forest. Osier Creek is partially on private land. That portion between the tracks and about 1 mile uphill is private, owned by the developers of the Osier Creek Campground - ask for permission before fishing. Where the creek enters the Rio de los Pinos, and up at its headwaters, the land is public.
Rio de los Pinos (below Cascade and Osier) -In this area, it is on forest land.
Where to stay?
You can camp in the national forest or there are campgrounds, lodges, and RV parks along the Conejos River, along Hwy 17, and in Antonito.
---