North Park
by K. Christopherson
Up in central north Colorado rests a large valley, ringed by 12000-foot mountains. This valley, called "North Park", is home to some of the finest and most diverse fishing in the state. It is also a place you can step back in time, to when Colorado was all about ranching, small towns, and few crowds.
There is a plethora of public fishing properties in North Park, ranging from the North Platte River to small streams, large-trout lakes to small. North Park is a good destination if you want to fish a variety of waters and also go after some large trout.
Delaney Buttes Lakes
These three lakes, named simply North, South, and East, have great reputations for producing nice trout. Each lake has its own character and species. And they all have their ups and downs. They are within a quarter-mile of each other, which makes it easy to shift from one lake to the other. The three lakes are state wildlife areas - you can fish for enormous Brook, Rainbow, Brown, and Snake River Cutts. North Delaney is Gold Medal Water.
The lakes are quiet - wakeless boating only, few facilities or developed areas, and camping is allowed, for free, on the shores. This provides a pleasant place to fish for large trout from your bellyboat or pontoon craft. The backdrop is spectacular in this high mountain valley. It's not perfect - winds can arise suddenly and mosquitoes grow to the size of hummingbirds. Yet that comes with the territory when you're fishing where there is so much water! The reward can be some darn big trout on the end of your fly line.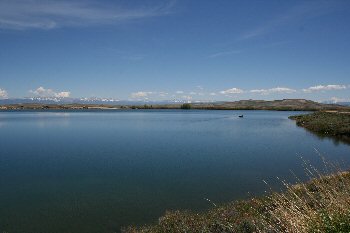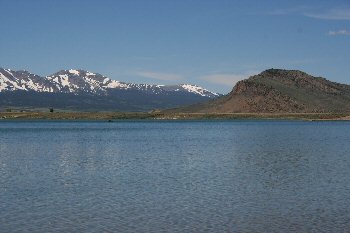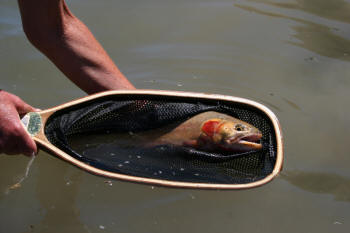 Views of the Delaney Lakes (top)
A nice cutt in South Delaney Lake
Lake John
Lake John lies about 3 miles north of the Delaney Buttes Lakes. The lake is "more developed" meaning boats are allowed, there are less restrictions than at Delaney Buttes, and there is a private campground/store/RV park. The lake is on state land.
Michigan, Canadian and Illinois Rivers
The Michigan, Canadian and Illinois Rivers, tributaries to the North Platte, meander through North Park. Access is available on State Wildlife Areas such as Diamond J and Murphy, and in the national and state forests. You can fish the Illinois River on Arapaho National Wildlife Refuge (closed at certain times of the year). Fishing can be outstanding if you know how to fish cutbanks!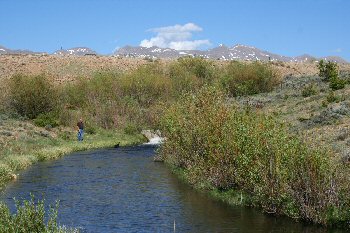 Michigan River on east side of North Park
North Platte River
You can fish the North Platte River in several spots. One favorite trip is to float from Colorado into Wyoming, starting above Northgate Canyon. You can also fish a more high-mountain meadow setting in Brownlee State Wildlife Area. Here the river meanders through meadows, with over 1 mile of public access.
Other waters
There are numerous other streams and lakes accessed on state and federal lands .....
Roaring Fork of the North Platte - accessed on Odd Fellows State Wildlife Areas
Cowdrey Lake - north of Walden, a state property
Big Creek Lake - on the northwest side of North Park in Routt Nat'l Forest - campground at the lake!
Teal and Tiago Lakes - two local favorites, smaller lakes (16 and 9 acres), normally stocked with Rainbows. There is a NF campground on the west shore Teal Lake.
You can also fish smaller creeks to the west in Routt National Forest and Mt. Zirkel Wilderness (some good lakes up there too, if you like hiking). And on the east, yet more small streams and lakes in the Colorado State Forest.
The list just goes on and on - North Park is one of those places you could easily fish for two or three weeks and not fish the same water twice.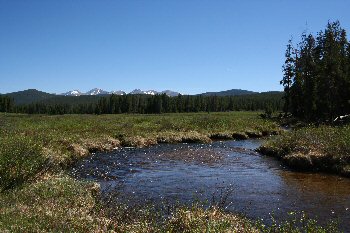 South Fork of Michigan River in Arapaho National Forest
Resources/Other Info:
Click here to buy an Ebook about Trout fishing on Colorado State lands - includes info about many state properties in and around North Park.
Click here to buy topo maps for this area. You need maps 113 and 114 for most of North Park from the Walden area to the Wyoming border. Maps are produced by National Geographic Maps
Check fishing conditions for many of these waters on the DOW's weekly fishing report - go to the Northwest Section
See the website for Arapaho and Roosevelt National Forest (mostly east and south of North Park)
See the website for Routt National Forest (mostly west of North Park)
Information on Colorado State Forest from the CO Parks website
Moose were introduced to North Park in 1978 by the Division of Wildlife. The first twelve moose came from Utah. The following year, another dozen moose were brought in from Wyoming. I gather the moose like it in North Park, because they reproduced rapidly. In 1987, twelve more moose were brought from Wyoming and released near the Laramie River. By 1999, the population of moose in Colorado was almost 1000 throughout the state. Walden is known as the "Moose Viewing Capital of Colorado". You can buy lots of moose paraphernalia here.
The North Platte was named by two French explorers, the Mallet brothers. 'Plat' means 'flat' in French - they must have been observing the river as it meanders through North Park.
There are natural sand dunes on the west flank of the Medicine Bow Mountains, which form the eastern edge of North Park. The sand dunes aren't as big as those down south at Great Sand Dunes National Monument, but still fun. They lie on BLM lands and can be accessed by driving east off Hwy 125.
How to get there?
Get yourself to Walden, then use a map. A few of the lakes and access points are somewhat hard to find!
Rules for the area
Regulations vary greatly between the many lakes and streams. Check the regs for the particular areas you are planning to fish.
Where to stay?
There are numerous US Forest Service and Colorado State Park campgrounds in the area. You can camp for free on the shores of the Delaney Buttes lakes (no services). There is a small motel and an RV park at Lake John. And there is a motel in Walden.
---