Muddy Creek: Clearly a Good Trout Stream
A decade ago Muddy Creek lived up to its name. From it's origin near Muddy Pass it meandered through easily eroded shale that gave the stream it's chocolate milk appearance and it's name.
That changed in '95 with completion of Wolford Mountain Reservoir. Muddy Creek became a clear flowing stream below the dam. Rainbows and browns were stocked in the reservoir. Some made it through the gate, while others made their way up from the Colorado. Stocking on private water also could have increased trout numbers.
Between the dam and Kremmling, Muddy offers four or five miles to fish. Two sections of BLM property are open to the public. A stretch of ranch land is leased by Rocky Mountain Angling Club.
To reach its full potential some improvement work is in order. Few trees line the banks and a few boulders here and there could provide some trout cover and holding water. Even with this, though, the fishing is clearly pretty decent.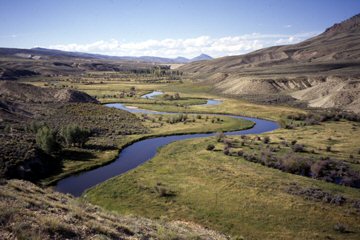 Muddy Creek view looking North
Rainbows to five pounds have been reportedly taken in the tailwater pool. Downstream, fish of 14 to 16 inches are not unusual. Muddy Creek has no special regulations. Flies are productive. In the summer months tie on a grasshopper imitation. Midges may be the most common aquatic insects but the usual mayfly patterns are also productive.
Wolford is also worth the angler's attention as it is stocked with brook, brown, cutthroat, and rainbow trout. As is typical of new reservoirs the fish grow fast and 16-inchers are taken frequently.
A mile north of the junction of U.S. 40 and State Highway 134 is a privately operated campground. Electric hookups are available for RVs, and water tanks can be filled at a central location. Other facilities include a dump station, rest rooms, and boat ramp.
The stream has two public access points. County Road 227 leads to the lower BLM section. Four-wheel drive is essential after a rain. The south entrance to the reservoir leads to a parking area near the dam, which is free.
Motels and an RV park can be found in Kremmling. For current fishing information stop in at The Fishin' Hole on the south side of U.S. 40. To fill an empty stomach try the restaurant and bakery located a half-block north of 40 past the intersection of State Highway 9. It's just past the trailer dealer on the corner.
By now it's be clear that Muddy Creek should be on your list of fishing holes.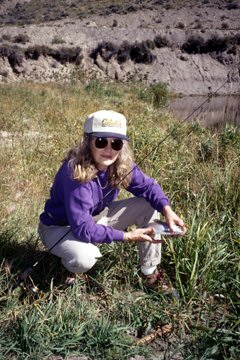 Nice trout of all sizes can be found in Muddy Creek
Copyright © 2000-2008 by Al Marlowe. No reproduction, linking, or copying without permission. Reach Al at www.hiddenlakespress.com
Side trips:
Muddy Creek flows into the Colorado River at Kremmling. There is a fair bit of access upstream from Kremmling
Smaller creeks and beaver ponds (with lots of brookies) can be found to the west in the Gore Pass area.
Resources:

Buy an ebook: Fifty Colorado Tailwaters: A Fly Fisher's Guide Click here for info or to purchase. Includes Muddy Creek and 49 other Colorado Tailwaters

Click here to buy an ebook on The Colorado River: A Fly Fisher's Guide by Al Marlowe and Karen Christopherson which includes color maps and info on the Colorado and its main tributaries (Blue, Eagle, Fraser, Muddy Creek, Roaring Fork, Fryingpan and Fraser). The book is over 170 pages and includes info on access, flies, hatches, and more.....
Rules:
---