There's Something about the Lake Fork -
The Lake Fork of the Gunnison
The Lake Fork of the Gunnison River drains the northeastern portion of the spectacular San Juan Mountains and is one of Colorado's most underrated and intriguing fisheries.
It must be mentioned here that recent studies performed by the DOW have determined that in various sections of the Lake Fork, the number of trout over 14 inches is twice the amount necessary for "Gold Medal" status.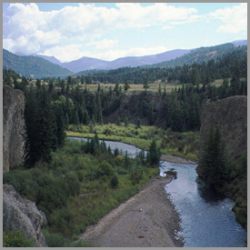 With a variety of water - from riffles to deep, mysterious pools in deep canyons, the Lake Fork offers plenty of public water, some of which must be hiked to.
Browns, rainbows, cutthroats and a few brookies, average 10 to 16 inches, with many in the 20-inch range and some much larger. Nymphing is always productive on the Lake Fork, and dry fly fishing is excellent following spring run-off and continues all the way into the fall.
Despite its cold waters and relatively steep gradient, the Lake Fork has a good aquatic insect base and a variety of hatches to test the skills of any fly fisher!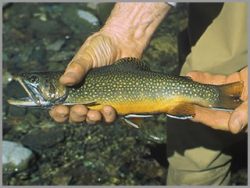 A fine Lake Fork Brookie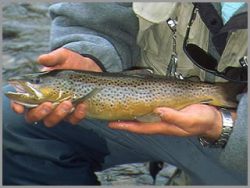 One of the gorgeous browns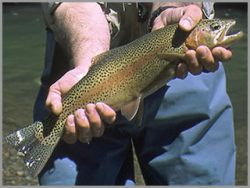 A nice Rainbow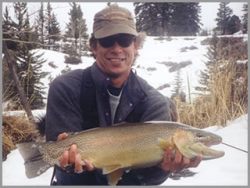 Oh Yeah, and one of the "hogs"
All text and photos above © The Sportsman Outdoor and Fly Shop
---
Resources/Other Info:

Click here to buy an Ebook about Trout fishing on Colorado State lands - includes info about the Lake Fork and area

Click here to buy topo maps for this area. You need map 141 which will cover most of the river. Maps are produced by National Geographic Maps
How to get there?
Take Hwy 149 southwest from Gunnison. It will meet up with the Lake Fork. There is access off this road and also at the inlet to Blue Mesa Reservoir.
Rules for the Lake Fork:
Headwaters downstream to waterfall at Sherman - Fishing with artificial flies and lures only; all cutthroats are catch and release
From inlet at Lake San Cristobal upstream to first bridge crossing: Fishing with artificial flies only
From High Bridge Gulch downstream to BLM boundary below Gate CG and from Cherry Creek to upper Red Bridge CG boundary: Fishing with artificial flies only, bag and possession for Browns is two fish, minimum 16" PLUS all rainbows are catch and release
From BLM boundary below Gate CG to Cherry Creek: Bag and possession for trout is two fish
From Argenta Falls downstream to Blue Mesa Res: Snagging Kokanee permitted Sep. 1 to Dec. 31
---