Laramie River
From Colorado into Wyoming
by Karen Christopherson
Few rivers flow from Colorado into Wyoming, from south to north. The Laramie is one such river, uniquely divided from the Poudre and North Platte drainages by a confusion of mountains in the northern part of Colorado. The Laramie River has a few things worth traveling for - some great scenery and some potentially large brown trout. This river may seem a bit off the beaten path, but is well worth a visit.
The Laramie doesn't seem to get too crowded - maybe it's the drive, or perhaps the variety of water close by. On the right day, you might be frequented by a caddis or drake hatch. Summer brings out the mosquitoes and hoppers. In the canyon section you can try the bigger flies. Strip a streamer or a plop a mouse near the bank and you might tempt one of the large browns from its hiding place.
Spring, summer or fall are great times to fish this area. The color contrast offered by the aspens, firs, pines, rocks, and grasses is spectacular any time of year. Thinking of winter? You might think again, or at least check ahead and be prepared as road conditions, ice, cold, and snow might impede your trip.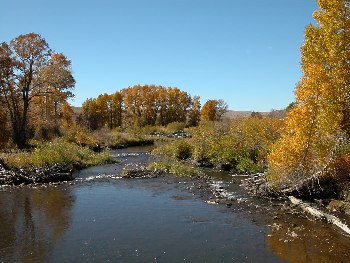 Hohnholz State Wildlife Area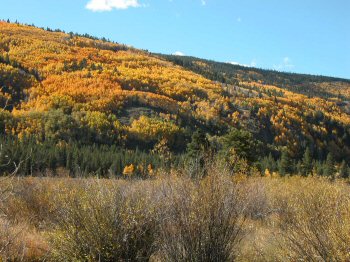 Laramie River Valley in the Arapaho & Roosevelt Nat'l Forests
The Colorado portion of the Laramie lies in a reasonably broad valley; some sections are fairly brushy. Once in Wyoming, the river valley gets narrower and portions flow through a narrow canyon (it is rumoured that this is where the REALLY large browns hang out - let us know...)
Over the years, a few of the ranchers on the Colorado side have allowed access to the river across their private lands for a small fee - it might be worth checking into, and asking any friendly locals you meet. (I happen to know a bit about this, but am not going to advertise it here - I'll leave you to do your own detective work!)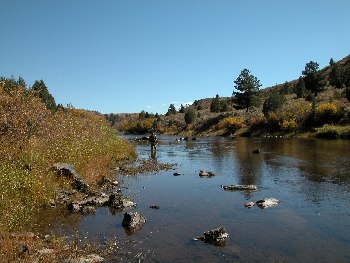 South end of the canyon at the BLM/USFS access in WY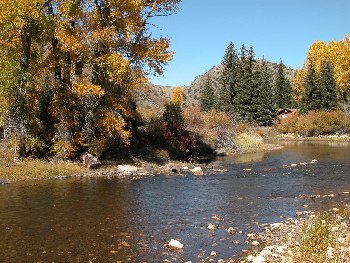 Access north of Jelm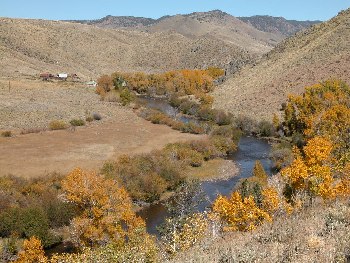 Just south of Woods Landing
While you in the area of the Laramie, there are lots of other places to fish. On the Wyoming side, you'll pass by the Laramie Plains Lakes and the Snowy Range (full of lakes and streams). On the Colorado side, there's the Poudre River, numerous streams and lakes in North Park, the Rawah Wilderness, and on the north side of Rocky Mountain National Park. Make sure you're organized and have licenses for both states before making this trip. This is not an area teeming in flyshops or sports stores. You'll need to get your licenses ahead, either online or in the closest towns of Laramie, Walden, Ft. Collins; Woods Landing does have a small store where you can get a WY license.
Resources:

Click here to buy a Digital Fishing Map for the Poudre and Laramie Rivers. No shipping - you download the map within hours of ordering

Click here to buy a topo map for this area. You need map 111 for the northern Colorado portion. Map 112 covers the section of the headwaters and part of the Poudre. Maps are produced by National Geographic Maps
Check out the web site for Arapaho&Roosevelt Nat'l Forests for info on camping, hikes, drives, and fishing on the Colorado side
Check out the web site for Medicine Bow - Routt Nat'l Forests for info on camping, hikes, drives, and fishing on the Wyoming side
Hohnholz State Wildlife Area - info from Colorado Division of Wildlife
Rules:
Wyoming: Creel count of three trout per day, not more than one longer than 16"
Hohnholz Lakes SWA: Fishing with artificial flies & lures only; bag and possession is 2 trout.
---