Farmers Union of the South Platte
by Karen Anderson
NOTE: Farmers Union is CLOSED - property purchased by a private fishing club
Farmers Union is a quiet, little haven of the Colorado Rockies; a silky stream gurgling forth ample, hungry trout. Both rainbows and browns inhabit these pristine waters, sometimes reaching a magnificent length of 24 inches! Nestled next to the small town of Bailey, Colorado (forty miles southwest of Denver) this privately held stretch of water provides oxbow curves, deep holes, cutbanks and pocket water to test both the novice and ace angler. A consistent clear flow of cold waters keeps the trout healthy for a good dry cast and excellent hopper fishing.
This stretch of water is found on the North Fork of the South Platte River, about 50 minutes from Denver. The natural flows are supplemented by water coming through the Roberts Tunnel, carried from the other side of the Continental Divide. Flows are almost always perfect for flyfishing and the water is normally very clear.
Recently we tried flashback pheasant tails, RS 2's and some bright orange San Juans all of which were successful during the morning hours. Several curious trout even came up to check out our indicator! As summer progresses, the trout will be eager to try your best hopper imitation.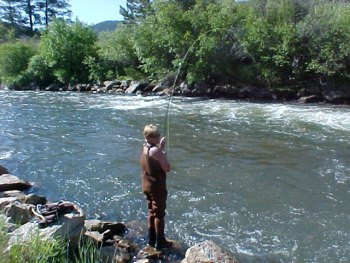 Fish on!
Farmer's Union makes for easy wading through its gentle curves or bank fished. The variety of water offers a challenge for the experienced angler, yet is a great place for novices. Few places this close to Denver offer great fishing coupled with uncrowded, quiet fishing.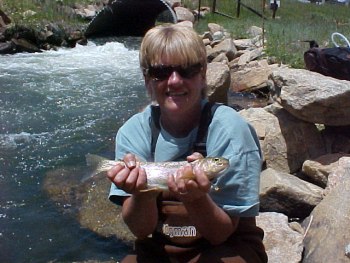 A nice trout
The North Fork of the South Platte offers little public waters for fishing. Farmers Union, along with another private stretch at Boxwood Gulch and Longmeadow Ranch, provide tremendous fishing along Hwy 285. If you're looking for public waters, you can try Pine Valley Open Space (south of Pine Junction) or portions of the river on the way to Deckers. However, these areas do not hold the same size of quantities of trout as the private portions.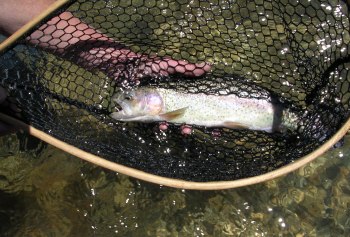 Some very nice Rainbows can be located
---
Resources/Other Info:
Click here to buy topo maps for Colorado's mountain areas. Maps are produced by National Geographic Maps
---