"Born to be Wild" - the East River
by Karen Christopherson
The East River - a misnomer for a real pretty river in the middle of Colorado's high country. Flowing south from Emerald Lake, north of Crested Butte, this river makes its way to Almont, where it joins with the Taylor to create the well-known fishing haunt, the Gunnison.
Upstream from this junction, a portion of the East River is a Wild Trout Stream. This section starts at the bridge leading into the Roaring Judy Fish Hatchery and continues downstream for one mile. The trout in this river were Born to be Wild, while their cousins at the hatchery go on to live in other rivers of Colorado.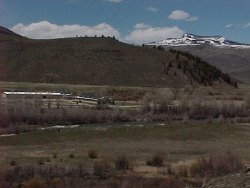 The Roaring Judy Fish Hatchery. Who was Roaring Judy??
The East is nestled in a valley north of Gunnison - this is ranching country! Up the road, at Crested Butte, lies Xtreme skiing and mountain bike territory. But here, on the East, you are taken back in time. Things haven't changed too much around here, despite the growth in other parts of the state.
Grassy slopes lie on either side of the valley, rising to 12,000 foot peaks. It's quiet, the river is roaring along its rocky bed - this is a great place to be!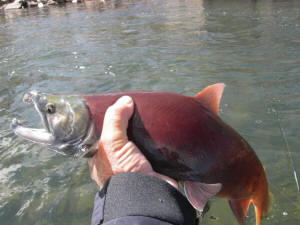 The kokanee make a run to the hatchery every fall. It is legal to fish to them, but only catch & release.
How to get there?
From Gunnison, travel north on state hwy 135. At Almont, take the left fork, continuing north on 135. The hatchery is obvious. The Wild Trout section starts at their bridge and continues downstream for about 1 mile. Another 3 miles or so and the East meets the Taylor at Almont. There is access at the hatchery and downstream. A short walk through the trees brings you to the river - look for deer and hawks!
The river flow is dependent on run-off. No dam upstream! So check the stream flow.
Rules:
From upstream boundary at Roaring Judy SFU, downstream to Taylor River: Fishing with artificial flies only. Bag and possession limit for trout is 2 fish under 12 inches. Taking of Kokanee Salmon is prohibited.
From Roaring Judy hatchery outlet downstream to Roaring Judy SFU: Fishing prohibited Aug.1 to Oct. 31
Where to stay?
There are a few resorts offering cabins near Almont. Crested Butte is a cute town, upriver, where Victorians have been restored and good bars can be found.
Resources:

Click here to buy a Downloadable Digital Fishing Map for the Gunnison from the headwaters to Blue Mesa Reservoir. Includes the East and Taylor Rivers

Click here to buy an Ebook about Trout fishing on Colorado State lands - includes info about the East River
Info on the State Wildlife Area from the Division of Wildlife can be found by clicking here
Gunnison Fly Fishing Club - Limited memberships available. Private water on East River and Tomichi Creek. Call Travis at 970-471-5829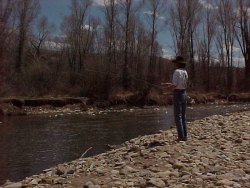 Gotta love these rocks - no flies getting caught on the trees!
---