Soar to the Eagle: The Eagle River
by K. Christopherson
The Eagle is a free-flowing river which seems forgotten by many flyfishermen. The river offers great fishing and good access. Plus, there's a good chance you will be driving right by it on your way to go fishing in other areas.
The Eagle, through legend, is named by the Utes who said there were as many branches of this river as there are tail feathers on an eagle. The river starts near the Continental Divide, with is headwaters near well-known places such as Mount of the Holy Cross, and Camp Hale (where the 10th Mountain Division trained during WWII). It flows mostly north until it reaches the Vail Valley. Here, Gore Creek joins the Eagle and the river flows west until it merges with the Colorado River near Dotsero.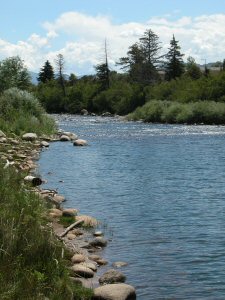 Some riffles near the Squaw Creek plant
Access-
There is quite a bit of access from shore or for wading - you can also float the Eagle during certain times of the summer.
White River Nat'l Forest - headwaters Hwy 24 runs between Leadville and Dowds Junction, crossing the divide at Tennessee Pass. After the pass, the highway follows the Eagle. Much of the land is forest property and there a few campgrounds. The river also passes through Camp Hale. Stop and take a look! Watch for private land especially between Minturn and Gilman. You can access many tributaries via trails or forest roads
Dowd's Junction
The Eagle River and Gore Creek meet at Dowd's Junction. This is also the junction of Hwy 24 and I-70. There is access here on land leased by DOW. There is also a USFS ranger station where you can obtain info.
Avon area Very limited access - home of Beaver Creek ($$$$). You can access the river at the bridge in Avon called "Bob".
Edwards to Wolcott - Access at BLM sites - use Hwy 6 - Ute Creek and Bellyache; access at Squaw Creek Water Treatment Plant; possible access at Cordillera with permission.
Wolcott to Eagle - Take Hwy 6 instead of I-70 - BLM and DOW leases at Wolcott Campground, Red Canyon Canyonwoods, old Hwy 6 Bridge, and Eagle County Fairgrounds
Eagle to Dotsero - BLM and DOW access points at Gypsum Campground and ponds, the "community" site, the "lava flow" access, the "horse pasture" access. Additional access possible at Eagle River estates, Willowstone easement.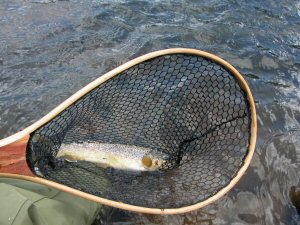 A nice brown - the Eagle is known for its dry fly action in summer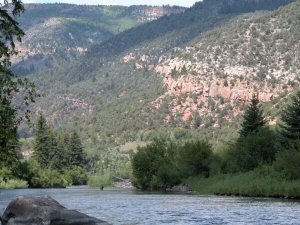 Near Wolcott Campground
Resources/Other Info:
Click here to buy an ebook The Colorado River: A Fly Fisher's Guide by Al Marlowe and Karen Christopherson which includes color maps and info on the Colorado and its main tributaries (Blue, Eagle, Fraser, Roaring Fork, Fryingpan and Fraser). The book is over 170 pages and includes info on access, flies, hatches, and more.....
Click here to buy topo maps for this area. You need map 108 and 109 for the headwaters to I-70. Map 121 covers the portion from Dowd's Junction to Eagle. Map 123 is western portion of Eagle River to confluence with the Colorado continuing west past Glenwood Springs. Maps are produced by National Geographic Maps
Click here to buy a downloadable digital guidemap for the Eagle River, from Headwaters to the Colorado RIver.
See the BLM's Eagle River Websitewhich includes info on floating the river
Visit the website for White River National Forest
There are some very nice flyshops in Vail and Avon, plus good guide services.
Rules for the Eagle
From confluence of east and south forks downstream to the Colorado: Bag and possession limit of two trout
---