A Mighty River in a Great State -
the Colorado
by Karen Christopherson

Click here to buy the Colorado River ebook
The Colorado River is born in Rocky Mountain National Park - not a bad place to be from! In its run to the west, it varies from mild to wild, and offers a challenge for anglers and boaters.
The Colorado is Gold Medal Water from the confluence with the Fraser (near Granby) to Troublesome Creek (about 4 miles east of Kremmling - there's actually a railroad sign here, "Troublesome"). The river is quite mighty at this part of its journey, flowing wide and deep, but having a pretty calm run. The exception is Byers Canyon, a very steep and narrow section that gets pretty angry during high water.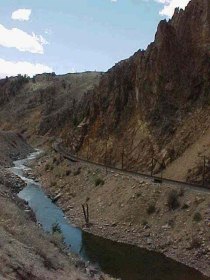 The Colorado flowing through Byers Canyon - it's deeper than it looks!
Where the river widens, and the valley opens up, the Colorado is lined with big Cottonwoods and lots of brush. Bring your waders, and watch the swift current. This river can get some pretty high flow rates going. Browns are quite abundant in the Colorado, and are particularly active during the fall when in spawn mode.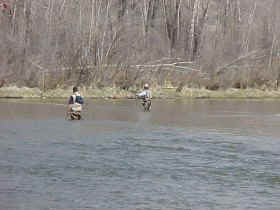 Wading in the Colorado, and it's not too high
This is not your typical clear mountain stream with a rocky bottom - this is a big river carrying a lot of sediment with it.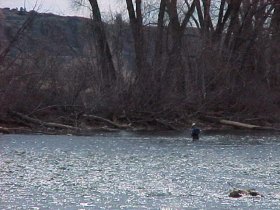 Watch out for the cottonwoods!
There are several access points along the road, US 40, mostly run by the Division of Wildlife. Some of the access points require a short hike, and in places you need to drop down to the river about 50 feet. Several of these areas are State Wildlife Areas and special rules apply.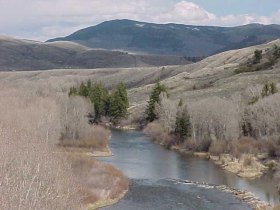 The Colorado west of Parshall (looking east)
How to get there?
You can come through Granby and go west on US Hwy 40, or east from Kremmling. If you get tired of fishing the Colorado, there's lots of other good rivers nearby, such as the Blue, the Fraser, and the Williams Fork.
The water level in the Colorado can get quite high at times, so check the stream flows before you go.
As the Colorado flows west from Kremmling, it goes through Gore Canyon (a whitewater nightmare), then into some fun floating water. There are enough rapids to keep you on your toes, and access is limited (on dirt roads to Radium and State Bridge). This is a great place to go rafting and fishing at the same time.
Rules:
From the downstream side of Byers Canyon (about 3 miles west of Hot Sulphur Springs) to Troublesome - fishing with artificial flies and lures only, and all trout caught must be returned to the water immediately.
From Granby Dam downstream to lower boundary of Byers Canyon: bag and possession for trout is 2 fish
Other rules can be very specific; check the section you're going to fish. Much of the Colorado is catch and release or 2-fish limit on trout.
Other stuff to do:
The hot springs at Hot Sulphur Springs have been remodeled and now offer 16 pools of varying size and temperature. There's a motel there, and fishing out the back door. But be aware that lots of trains go by every night!
Wildlife watching is encouraged at many of the access points.
Resources:
| | |
| --- | --- |
| | Click here to buy an ebook The Colorado River: A Fly Fisher's Guide by Al Marlowe and Karen Christopherson which includes color maps and info on the Colorado and its main tributaries (Blue, Eagle, Fraser, Roaring Fork, Fryingpan and Fraser). The book is over 170 pages and includes info on access, flies, hatches, and more.....Also available as download. Or available on Amazon as paperback or Kindle |
| | |
| --- | --- |
| | Buy a downloadable digital fishing map for the Colorado River - covers access all the way from the headwaters to Rifle. Includes a smaller version for use on mobile devices such as tablets and smart phones. Click here for info or to purchase. |
| | |
| --- | --- |
| | Click here to buy a topo map for this area. You need map 106 for the Colorado River from Granby to Kremmling. Maps are produced by National Geographic Maps |
Lodging:
Need a great motel? Check out Canyon Motel in Hot Sulphur Springs
---