Surprises on the Colorado River:
Drifting, Flyfishing near Glenwood Springs
by Karen Christopherson

Click here to buy the Colorado River ebook
"I don't match the hatch; I give them a smorgasbord" - words from our friend Pete Golden as we gear up for a drift boat flyfishing trip on the Colorado River.
It's a gorgeous spring day - warm for March. We're putting in at Grizzly Creek, an exit off I-70 east of Glenwood Springs. The plan is to drift and fish to the Two Rivers Park in Glenwood, about 6 miles. Driving by this section of water you might think, "too muddy, too busy, no fish". But you'd be wrong - this portion of the Colorado holds several surprises - some large Rainbows, Browns, a few pesky Whitefish plus hot springs and some peaceful spots.
Floating is the best way to get to the trout - there are few places where you can fish from shore. Having a boat allows you to fish for them wherever they may be holding - in the rocks by the shore, in the seams and eddies, or down deep in the main river channel.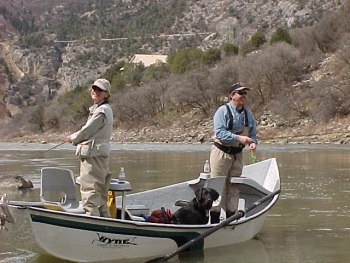 Karen and Pete looking for Browns with coaching from Raider, the black Lab.
One beauty of fishing this stretch is that you can use almost any type of fly you like. Dries, sure if you see fish rising. Streamers - try to coax the browns into a chase. Nymphs - put on different kinds and sizes. Almost every type of bug is available from midges to mayflies, caddis to stoneflies. I guess that's why Pete likes the Smorgasbord - at times he would tie on three different flies. Let the trout select his candy!
And the trout are fighters. You'll need a heavier rod - 6 or 7 wt with some strong leader and tippet. No point in messing around! Having the big stuff will also aid if you get your fly hooked on the bottom or rocks along the shore.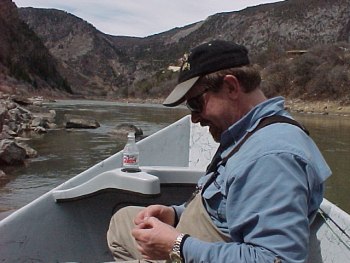 Pete tying on a variety of flies
The drift is gentle - a few Class I and Class II rapids to makes sure you're awake. There are some nice bars and beaches where you can pull over for lunch or an opportunity to wade fish. Best of all, just before Glenwood, there are some hot springs on the side of the river. These offer a new opportunity for your waders, sitting in warm water. I guess you could be traditional and strip down but remember that I-70 is watching....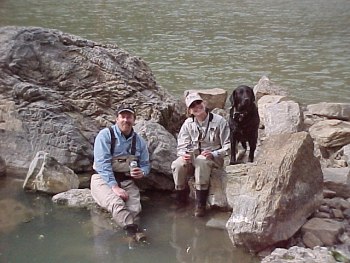 Beverage stop at the hot springs on the river
The Colorado River offers many miles of float fishing for trout. This stretch is easy to get to, especially if you're already in the area to fish the Fryingpan or Roaring Fork. Floating provides a relaxing day yet opportunities to catch lots of larger fish, especially in a stretch of river that you might have not otherwise considered.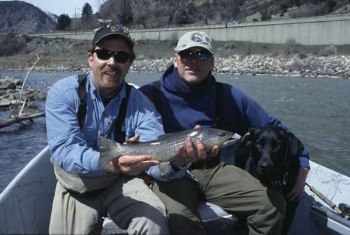 Pete, Jim and Raider with one of the nice browns
You can camp right on the river at Rock Gardens (No Name exit) - spots for RV's or tents with fishing out your back door. You can put in either there or 2 miles upriver at Grizzly Creek. Plenty of accommodations are also available in Glenwood Springs
---
Resources/Other Info:

Click here to buy an ebook on The Colorado River: A Fly Fisher's Guide by Al Marlowe and Karen Christopherson which includes color maps and info on the Colorado and its main tributaries (Blue, Eagle, Fraser, Roaring Fork, Fryingpan and Fraser). The book is over 170 pages and includes info on access, flies, hatches, and more.....Also available as download, or from Amazon or Barnes and Noble. Or available on Amazon as paperback or Kindle
Buy a downloadable digital fishing map for the Colorado River - covers access all the way from the headwaters to Rifle. Includes a smaller version for use on mobile devices such as tablets and smart phones.
Click here for info or to purchase.

Click here to buy topo maps for this area. You need map 151 from Eagle to Rifle. Maps are produced by National Geographic Maps
---