The Blue River -
Where Blue is Gold
by Karen Christopherson
The Blue is one of my favorites. Why? It's just the right size, easy to access, close to home, and a great place for fishing, canoeing or kayaking. From the dam at Dillon Reservoir all the way to Kremmling, portions of the the Blue are Gold Medal water.
The Blue isn't a big river, which is part of its charm, and part of its challenge. You can easily wade in most parts of it. But catching the fish can be difficult. Our first visit this year is in early May and the river is low - small Brookies nibble on nymph flies and that's about it. There are always the large rainbows at the Dillon Dam tailwater, teasing as they fake to chase a minute fly. But who cares, it's beautiful and it seems like Spring has finally arrived in the mountains of Colorado.
This river is your quintessential mountain stream. The Gore Range rises off to the west, parts reaching over 13,000 feet. These beautiful mountains are home to the Eagles Nest Wilderness. To the east lies the Williams Fork Mountains. Not as high as the Gore, but still respectable at almost 11,000 feet. Pines and firs line the section between Silverthorne and Green Mountain Reservoir. Even though you're within a few minutes walk of Hwy 9, you are brought into the peace and quiet of the river, seeming to be miles from anywhere. You'd think this part of the Blue would be packed, but it never seems that crowded.
North of Green Mountain, the landscape changes to an arid country with fragrant sage covering the land. It's a different kind of Colorado. Hawks scout for their prey, and the occasional deer scrounge for food. You're getting into ranching country here, which stretches north through Kremmling and Middle Park. The quiet is easier to find, just harder to get to.
How to get there?
Take I-70 west from Denver, through the Eisenhower tunnel and exit at Colo. Hwy 9 north (Silverthorne). If you're new to Colorado, watch for Bighorn Sheep eating right along the highway. Amazing! For a prettier route, skip the tunnel and take Hwy 6 over Loveland Pass. Here you travel to 11,992 feet and within a breath of a couple of 14'ers.
You can start fishing the minute you leave I-70, in fact you can fish Gold Medal water right under the interstate. Fishing access is available in Silverthorne - park at the Outlet Stores and you're there. The section of the Blue RIver from the dam to about 2.5 miles downstream (at the Hamilton Creek Road bridge) is Gold Medal. This section can be reached off the Blue River Recreational Trail.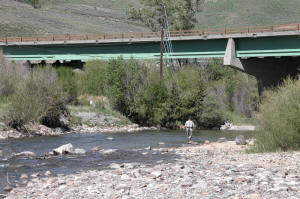 Where else can you find such good fishing right under an interstate?
The water level in the Blue varies a lot, due to release from the dam, so check the stream flow level before you go. Waders are nice to have, but not always necessary. This river never gets too deep, but it can get darn swift when water levels are up.
The public land along the Blue is owned by BLM, USFS or leased by the Colorado Div. of Parks and Wildlife (CPW). There's quite a bit of private land, so watch your step! There are several access points off Hwy 9, some marked by a big "P" for Parking. Others aren't obvious from the road, but look like turn-outs and have signs posted regarding fishing access and regulations. Once parked, you can walk along a great part of the river, even though much of the land is privately owned.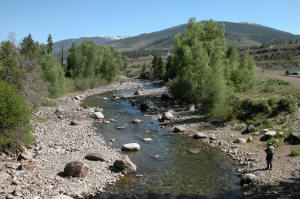 Fishing on the Blue - upstream it's not deep, so you can get a decent cast from the rocks
As the valley opens up, you eventually reach Green Mountain Reservoir (if you like lake fishing - not bad for Kokanee during certain times of the year). On the west side of the reservoir is the town of Heeney, home of the annual Heeney Tick Festival (serious!). The Blue leaves the reservoir and runs north (with more restricted access) until meeting the Colorado, near Kremmling. You can fish the tailwater below Green Mountain dam - access is restricted during certain days of the week (for security) but normally you can drive to the dam during weekends.
Downstream from Green Mountain Reservoir, the Blue River is Gold Medal water - this segment ends when the Blue merges with the Colorado RIver near Kremmling. The first few miles directly downstream from Green Mountain dam is on federal land - be careful wading or hiking, especially during runoff or dam releases. The remainder of the shore access, all the way to Kremmling, is mostly private property. There is access at the confluence of the Blue River and the Colorado near Kremmling. Take Trough road south and west from Kremmling, turning north just before crossing the Blue River.
You can float fish this section, putting in at Green Mountain Dam - this is not an easy put in - boats/craft must be lowered down a steep slope to the river. Check out some raft/kayak website or videos for more info.
Rules:
The waters from the dam downstream to the northern limits of Silverthorne (about three miles) are catch and release only. After that, minimum size is 16", and a max of two fish taken per day. Fishing with artificial flies or lures only on this entire segment.
From north inlet at Cnty Rd 3 (3 miles N. of Breckenridge) to Dillon Res: Fishing with artificial flies and lures only, bag and possession is two fish, 16" or greater
From Green Mountain dam downstream to the Colorado River - flies/lures only; catch and release
Shopping or Fishing?
You want to fish, your partner or kids want to shop? Not a problem - drop them at the Silverthorne outlet stores - you can fish right there! Or send them skiing at one of the numerous nearby ski areas. There's a nice fly shop in Silverthorne (Cutthroat Anglers) and some great eateries. Almost any kind of accommodation is available - from B&B's to condos to motels. There's even a USFS campground right on the river, and called (surprisingly) Blue River Campground.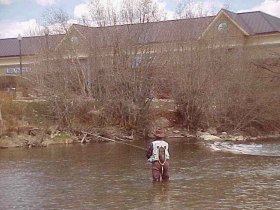 Tired of fishing? Go to the Outlet Stores!
Resources:

Click here to buy an ebook on The Colorado River: A Fly Fisher's Guide by Al Marlowe and Karen Christopherson which includes color maps and info on the Colorado and its main tributaries (Blue, Eagle, Fraser, Roaring Fork, Fryingpan and Fraser). The book is over 170 pages and includes info on access, flies, hatches, and more.....Available on cd or download, or from Amazon or Barnes and Noble.

Buy a downloadable digital fishing map for the Blue River - shows access all the way from the headwaters to Kremmling. Includes a smaller version for use on mobile devices such as tablets and smart phones. Click here for info or to purchase.

Click here to buy an Ebook about Trout fishing on Colorado State lands - includes info about the Blue River.

Click here to buy topo maps for this area. You need maps 106, 107, 108 for the Blue River from Dillon Res. to Kremmling. Maps are produced by National Geographic Maps
Map:
View Larger Map
Stream Flows
Blue River below Dillon Reservoir
Blue River above Dillon Reservoir
---