Fishing from the dam of a high mountain lake, my lure stopped dead. Since it was almost at my feet, I thought it had snagged a rock. When I tugged on the line to free the spinner, the "rock" instantly began taking line off the reel. When 200 feet of monofilament had run out, panic set in and I lightly touched the spool. The added tension was sufficient to break the 4-pound line after hooking my first large trout.
Something that should be obvious but is often overlooked – to catch large trout, fish water that holds large trout. After years of fishing beaver ponds, high lakes, and small streams inhabited by smaller trout, I started fishing the lakes and streams that hold large trout. It works for me and it will work for you.
20-Inch Brown Trout
The first browns were stocked in Colorado more than a century ago. Although they're not native, they do well and in most waters frequent stocking isn't required. One place to hook a large brown is the stretch of the Colorado River between Glenwood Springs and Rifle. The river is large in this section, with deep holes and structures to hold browns like a 38-incher submitted for Master Angler recognition, taken near Rifle. A section of the Colorado that's working on producing 20-inch browns is the stretch below Gore Canyon. A drift boat takes anglers to water not reachable otherwise.
CDOW biologists have netted large browns in North Delaney Butte Lake in North Park. Nets snared female browns up to seven pounds and males up to nine pounds. If the browns aren't hitting in the North lake, try South Delaney. It also grows them large. As proof, a brown of 26 inches was entered for a Master Angler not long ago. Nearby Lake John is another big brown hot spot. Two South Park reservoirs that hold large browns are Spinney Mountain and Elevenmile.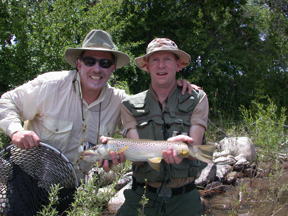 Big Colorado River brown
20-Inch Rainbow Trout
Master Angler submissions are a pretty good indicator of where to fish. In the first three years of the program 128 qualifying fish – with a minimum length of 24 inches – were entered. The longest was a 34-inch hog caught and released in the Taylor River tailwater. Don't expect privacy. It's a busy run. Mysis are responsible for the large rainbows found in the Blue and Fryingpan rivers. A Lakewood angler took a 26-inch rainbow in the Fryingpan tailwater. A very young angler hooked a 24 1/2-inch 'bow in the same stretch a few years ago.
Spinney Mountain Reservoir has been producing 20-inch-plus rainbows. A DOW survey netted some of over 23 inches and they made up 36 percent of the biomass. Since fish this size are too large for the pike to eat, they should be around for a while longer. A survey was also encouraging for Elevenmile Reservoir, a producer of Master Angler trout.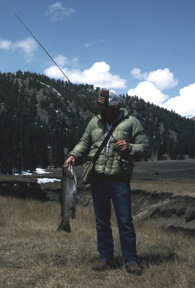 A 24" Rainbow
20-Inch Cutthroat Trout
At the beginning of the 20th Century Colorado had four subspecies of cutthroats – The Colorado River, greenback, Rio Grande, and yellowfin. The yellowfin became extinct shortly after 1900. The rest are listed as threatened, since few pure-strain cutts of the three remaining varieties are found in great numbers. To provide more recreation, DOW has stocked Snake River cutthroats for a number of years.
It's rare for the native cutts to grow to a size common in other trout such as rainbows and browns. Snake River cutts, however, do get large in Colorado. Your best bet to take a 20-inch cutthroat is to fish lakes stocked with the Snake River subspecies.
The pike have been doing a number on the trout population in Spinney Mountain Reservoir but the lake still holds some cutts that are too big for pike to swallow. The reservoir has produced more Master Angler qualifying Snake River cutthroats than any other single location.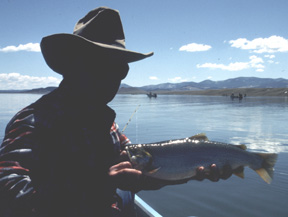 Snake River cutthroat
20-Inch Brook Trout
To replace dwindling stocks of native trout a hundred years ago, brookies were introduced. Today they are found in every drainage in the state. Unfortunately most are small – pan size. Larger brookies do exist though, and some are taken in the most unlikely places – beaver ponds. Remote headwater streams in the Colorado and Gunnison drainages are likely places to begin prospecting for big brookies.
The minimum length to qualify for a Master Angler award is 16 inches. The Fryingpan River produces a few entries each year, with several around 22 inches. The Blue River is also home to large mysis-fed brook trout, some that will push 20 inches. Don't expect to find them in large numbers, though.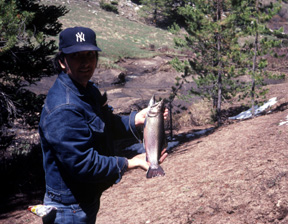 A beauty of a brookie
Copyright © 2000-2008 by Al Marlowe. No reproduction, linking, or copying without permission. Reach Al at www.hiddenlakespress.com
Resources to help find some of the large trout:

Buy an ebook on CD: Fifty Colorado Tailwaters: A Fly Fisher's Guide Click here for info or to purchase.

Click here to buy an Ebook about Trout fishing on Colorado State lands - includes info on over 160 state fishing properties.
---