How to Catch a Carp in 5 Days
submitted by Mike Limberg
Read an article recently about fly fishing for carp in the South Platte down the street from where I live in Denver. So, I thought I'd summon my midwestern roots, pick up a couple crayfish imitators and give it a try! Keep in mind I only have a 5 wt fly rod at the moment so hooking into a big carp was definitely going to put the lifetime warranty on my rod to the test...And so the journey begins...
Evening 1: Carp jumps out of the water 5 ft from me, but wants nothing to do with my fly.
Evening 2: Hooked into what felt like a GIANT fish. It took me for a ride for 2 minutes before jetting down a chute and snapping the fly off.
Day 3: Ran down over my lunch break and spotted a handful of carp, big and small. Danced my crayfish right under a fish's lips and it ignored me completely.
Evening 4: No one likes getting skunked, but at this point I was determined and had to keep at it until I could pull one of these suckers out. Sight-fished most of the evening to no avail and finally decided to blind cast into a dark slow pool. Again, hooked a GIANT. It took off immediately upstream and due to a mix of size, surprise and user error, it again snapped the fly off and got away.
Day 5: Went with an experienced buddy to see if he could show me what I'm missing. We wet waded north for a bit, seeing tons of carp and scaring them all off. Finally after an hour, a decent sized carp decides to hang in the current 10 feet down stream from me. So I tossed my crayfish out and up and let it drift down, giving it very little action to avoid scaring this guy off. Luckily, he takes it! Then he took my line for a ride and sent me in to my backing in seconds. So began a 15 minute battle. It started with me submerging up to my neck in order to thread my entire fly rode through an underwater root he had tangled in. Then I found myself sprinting up and down the river as he had almost exhausted all of my backing. I figured based on the fatigue in my arm and wrist that the fish must be feeling a similar exhaustion, but just as my buddy would try to net it, it would run for another 60 ft. Eventually, the fish conceded and half fit into the net. This was definitely one of most fun catches I've had!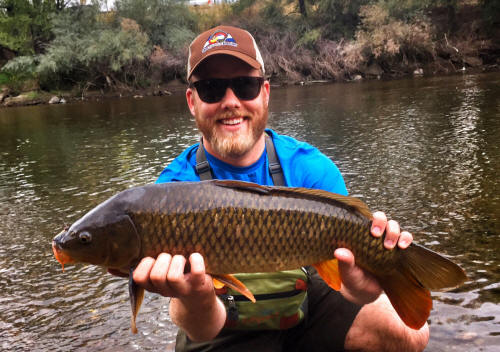 #####
Webmaster note: This story was submitted online by Mike Limberg
Resources/Other Info:

Buy South Platte Digital Fishing Maps for trout fishing. Click here for info or to purchase. Available as download or on cd.
---