The Spin on Spinney Mountain Reservoir
by K. Christopherson
Opening days in Colorado....Standing behind the rope at the top of your favorite powder run and waiting for the rope drop....Anticipating with great preparation the opening day of your hunting season while set on the side of a mountain..... sitting in your car for hours waiting for Spinney Mountain Reservoir to open.
What? Sitting in your car for hours, for an outdoor experience? Yet, this is what anglers do for one brief period every April - they line up during the wee hours of the night, napping, anticipating, just waiting for the gate to open. Why? Because Spinney is closed for the winter, and opens when the ice is gone. The anticipatory anglers want the first cast to the trout, hungry and rising after ice-off.
The rewards are in the reservoir, if you can get them. Spinney Reservoir is best know for its large Rainbow trout, although it also harbors browns, cuttbows, Northern Pike, and Yellow Perch. The Rainbows can be large, and are plentiful. For this reason, Spinney Mountain Reservoir is designated as Gold Medal Water. Like fishing for pike? The Division of Wildlife would appreciate it very much if you catch a lot of pike, and keep them. The larger pike, it seems, have a fondness for trout (as in food).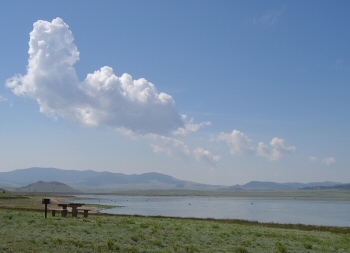 Spinney Mountain Reservoir sits an at elevation of 8680 feet
There's plenty of shoreline to fish from - Spinney is a large reservoir (about 2500 surface acres). If one section isn't working, walk along the shoreline. It DEFINITELY helps to have your waders on, so you can get part way out in the shallows, or walk thru the marshy sections. Bring a selection of flies - dries, nymphs, scuds, attractors, terrestrials, wooly buggers in a variety of sizes and some variable weight. You never know if the fish will be on the surface or close to the bottom! Also, bring a jacket, sunscreen, and any food or refreshment you want as the closest store is a couple of miles away.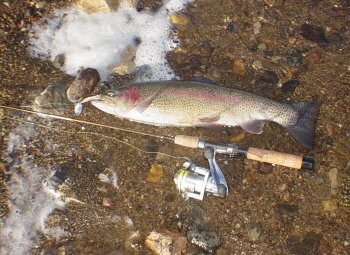 Although a flyrod may be your first choice, a spinning rod will work far better when the winds pick up. (photo by Bill Hadley)
You can better your chances of catching a large Rainbow by using some form of watercraft. Boats are allowed. Be prepared before you throw that float tube in the lake. High winds and thunderstorms can rise up here faster than the hair on a scared cat's back. Know what your options are for getting to shore quickly, no matter which direction the storm may come from.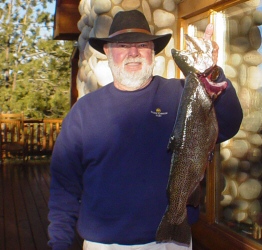 There are lots of gorgeous trout in Spinney - remember to throw them back. You're allowed to keep only one, and it has to be longer than 20". Here Bill holds a 22.5" 4+ lb cuttbow (photo by Bill Hadley)
So get out and take a spin on Spinney. The reservoir and portions of the South Platte lie within a Colorado State Park, so a parks pass or daily entrance fee is required. If for some reason you're not happy with the angling at Spinney, there are miles and acres of fishing opportunities within a few minutes drive. Elevenmile Reservoir (another state park) is just south of Spinney. The South Platte River flows in and out of Spinney with the famed tailwater south of the reservoir. There's also great fishing on the middle and south forks of the South Platte on Badger Basin, Tomahawk, Spinney Mountain, 63 Ranch, and Knight-Imler State Wildlife Areas. And in 2007, Antero Reservoir should re-open.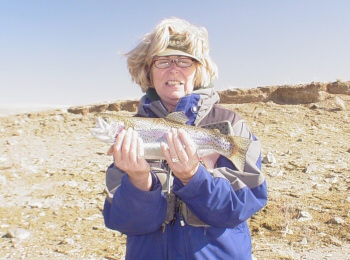 A nice Rainbow, out of the water just long enough for a photo op (photo by Bill Hadley)
How to get there?
Take Hwy 24 from Colorado Springs for about 55 miles over Wilkerson Pass. Turn south on County Road 23, then south on County Road 59.
From South Park, take Hwy 9 south (just west of Fairplay). At Hartsel, follow Hwy 59 to the entrance
Resources:

Buy South Platte Downloadable Digital Fishing Maps Click here for info or to purchase.

Buy an ebook
'50 Colorado Tailwaters'
- includes the South Platte tailwaters

Click here to buy an Ebook about Trout on Colorado State lands - includes a lot of info about 150 Colorado fishing lakes and streams, many in South Park
See the Colorado State Parks site for information on Spinney Mountain State Park
More info on fishing in South Park
Special Rules:
All trailered/gas boats are inspected for invasive species pre-launch and upon exit from lake
Fishing with artificial flies or lures only
Bag and possession for Trout, at/in reservoir, is one trout, 20" or longer
No limit on Yellow Perch
Fishing prohibited 1/2 hour after to sunset to 1/2 hour before sunrise
Area near the dam is closed to public access
Special rules also for South Platte River above/below reservoir - catch and release below dam; Above reservoir: limit 2 trout, only one larger than 20", catch and release on all trout between 12" and 20". Check rules on the State Wildlife Areas beyond these sections of the South Platte.
Park is closed during the winter (dates change from year to year); no ice fishing.
Where to stay?
There is camping at nearby Elevenmile Reservoir State Park and a private campground near the entrance to Spinney Reservoir. Dispersed camping is available in Pike National Forest to the east.
Info on Other South Platte areas:
---