Snake River: Sometimes a Summit Surprise
by K. Christopherson
Fishing, skiing...skiing, fishing. Golf or fishing? Fishing or biking or hiking? Often perplexed which to do, you don't always have to choose. In many parts of Colorado you can do both in the same day.
Many of Colorado's ski areas are also homes to fine golf courses. And many are also situated near rivers which in turn are next to bike paths. To name a few: Vail/Beaver Creek (the Eagle River and Gore Creek), Breckenridge (Blue River), Aspen (Fryingpan and Roaring Fork), Durango (Animas River), Steamboat (Yampa River), Winter Park (Fraser River). Yet another, that people do often think about, is Keystone and the Snake River.
The Snake River has headwaters in two areas. One is near another ski hill (A-Basin) and the other above Montezuma (well known for 4WD trails). The river segments meet near Keystone Resort. Luckily, for us anglers, Keystone allows fishing on most of the resort (as long as you practice catch and release)!
The Snake is just a moderately-sized river, making wading easy and offering some fun water. The bottom is large cobbles, seldom covered with any algae. That's part of the good news. There's good news and bad news about this stream....
Good news - access is pretty easy. You can park in the resort parking lots and access from the bike path running along or near most of the river
Bad news - You can't go on the portion that flows thru the golf course
Bad news - the stream suffers from periodic pollution sourced by the high-altitude mines and ski area operations. (Bear in mind that the silver mines have been there for over 100 years and are no longer in operation). The mine pollutants are a natural result from the mineral concentrations which change the pH of the water. The stream has been studied by the ski area, the state, and Trout Unlimited; efforts have been made to improve water quality. All of this, of course, affects the fish and insect life.
Good news - there is normally a healthy Brookie population (mostly small), plus Keystone stocks the river with Rainbows (not your normal stockers, we're talking large fish between 18 and 20 inches in length). What is appealing about angling here is that on a blind cast you don't know if you might hook a 6" Brookie or a 20" Rainbow.
Bad news - ok, you're fishing through a resort of condos.
Good news - most sections of the stream are very quiet, seldom fished, and lined with fir and pine trees. Added bonus - if you want a coffee or a beer, you can walk to one of many pubs or restaurants!
More good news - in the fall or spring, spend the morning skiing/boarding, then throw your winter gear in the truck and grab your flyrod. Two sports in one day. And even more good news - if your compadres or family are not into fishing, they can stay happy doing various resort activities such as biking, hiking, riding the chairlift, drinking, listening to live music or shopping............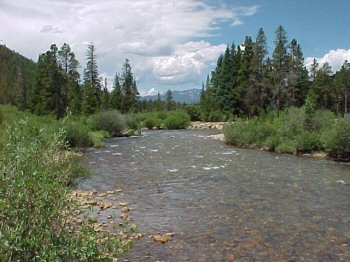 Most of the Snake has a cobble bottom, and the fish camouflage well
Tips for fishing:
The trout move around a lot. If one area isn't fishing well, move a few hundred feet up or downstream. Try fishing all types of water. including the very shallow, and don't forget the cutbanks. Dry flies work well here much of the year - and with those Brookies you don't have to be shy about putting on a fairly large fly.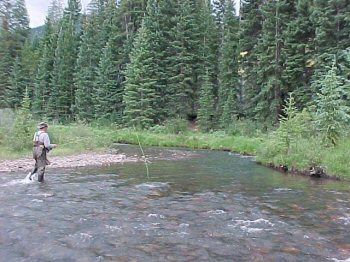 Cutbanks and riffles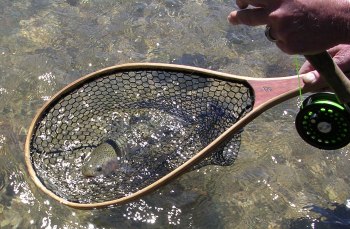 One of the nice Rainbows
There are other places to fish the Snake. One section that can be productive is the inlet to Dillon Reservoir. There is a public parking area right at the inlet (off Hwy 6). Some nice structure in the water can be fun to fish for Rainbows at almost any time (but it will ice up in winter).
Want to get away and fish some higher altitude? Above Montezuma, the beavers have been busy. There are loads of ponds, some fairly large, which contain brookies. You'll need a 4WD or high-clearance vehicle. The roads follow the Snake River and Deer Creek a good part of the way. It's not difficult to hike up to the various ponds. There are even some higher-altitude lakes. One, Chihuahua, has Colorado River Cutthroats and they aren't tiny. This does demand a hike as the lake sits at over 12,000 feet in elevation.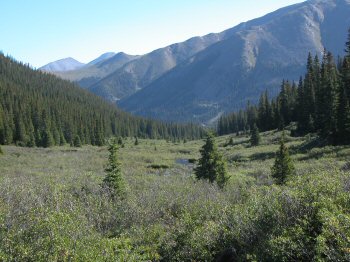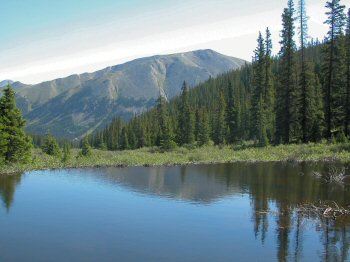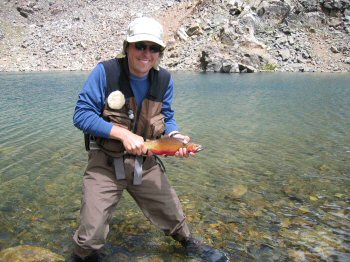 A nice cutt in Chihuahua Lake (photo courtesy Joshua Flenniken)
Access:
Get to Keystone by either taking Hwy 6 over Loveland Pass, or I-70 to Frisco. At Frisco, head east to Keystone Resort. You can park at either the Gondola lot (always free) or the main base area (free except during ski season).
Between Keystone and Montezuma, most of the land is private. It doesn't matter, since there are few trout here. The pH of the stream is too low (from the mines upstream). However, National Forest lands start about one mile above Montezuma.
Resources:
Rules:
Catch and release on Keystone Resort property. No special regs on USFS lands
Map:
---