Hop In to the Conejos River
by Karen Christopherson
Tucked down in southern Colorado, in the eastern portion of the San Juan Mountains, is a a flyfisher's dream - a beautiful river with lots of access. The Conejos River has fishing access and easements along more than 60 miles of its course.
Portions on the Conejos are in the San Juan National Forest, or in the South San Juan Wilderness Area. Other fishing easements have been provided on private land, in this portion of the state favored for summer cabins.
Conejos means 'rabbit' in Spanish - good question why anyone would ever name a river after these little hopping creatures. Regardless, it's a great area for fishing and enjoying scenery at the same time. You can angle for almost every type of trout in this river and see some gorgeous country at the same time.
Access-
Headwaters The Conejos starts above Platoro Reservoir. Take USFS Rd. 250 north from Hwy 17 to the old town of Platoro and the reservoir (about 25 miles). There is some road access above the reservoir, but to get to the headwater creeks, you will need to hike into the South San Juan Wilderness.
Lake Fork The Lake Fork of the Conejos is Wild Trout water from its headwaters through and including Big Lake and Rock Lake. The Lake Fork is accessed by trails off of USFS Rd. 250.
Saddle Creek to South Fork Flyfishing only; includes some of the Pinnacles area in the canyon.
South Fork to Menkhaven Ranch Some access on USForest property; respect private property
Other: The Conejos River SWA is no longer active. From Menkhaven Ranch downstream - access on US Forest lands near Aspen Glade and Mogote Campgrounds.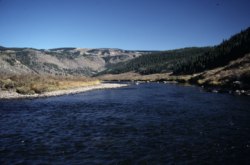 Platoro Canyon Photo by Al Marlowe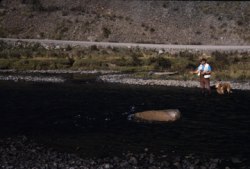 Even dogs enjoy the Conejos. Maybe she is looking for the rabbits? Photo by Al Marlowe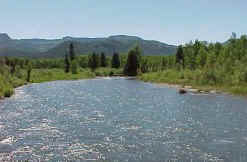 Looking upstream from junction of Hwy 17 and FR250
Rules for the Conejos:
Menkhaven Ranch downstream, to Aspen Glade Campground -Rules also apply to Bear Creek subdivision, HEBO Corp. and Douglas properties:
Artificial flies only
Bag and possession is two trout, 16" or longer
From lower bridge at Platoro downstream to confluence with South Fork of the Conejos:
Artificial flies and lures only
Bag and possession is two trout, 16" or longer
Lake Fork - from headwaters downstream thru and including Rock Lake and tailwater
Artificial flies and lures only
All cutthroats must be returned to the water immediately
How to get there:
Take Hwy 17 going west from Antonito, or east from Chama NM. Forest Rd 250 runs north from where Hwy 17 meets the Conejos. There are numerous forest roads north of the areas where you can access other rivers or lakes.
Resources/Other Info:

Buy an ebook '50 Colorado Tailwaters'
---