Winter Flyfishing: Where to go?
by K. Christopherson
It's cold out - you've been watching TV, tying flies, and reading books. You're anxious to fish. Where can you go for some flyfishing?
The possibilities are pretty limited to the tailwaters. The good news is that that most are renown for big trout. The bad news is that these areas can get crowded. Remember to dress appropriately and take your nymphs or mysis shrimp flies, and some warm coffee. Here are some suggestions:
Boxwood Gulch and Long Meadow Ranch
Close to Denver, this exceptional private water offers discounted rod fees in winter. Lying on the North Fork of the South Platte River, the mountain ranch lands are home to over six species of trout. And these are BIG trout! The beauty of fishing in winter is that the fish are still there, willing to take your nymph, but also that discounted rod fees, and in cases guide fees, make this your chance to fish this unforgettable water at a great price. More info
Blue River-
The Blue runs out of Dillon Reservoir and is a good place to go fishing in the winter. But it can get cold. Easy to get to, this area is right by the outlet stores in Silverthorne and can give your non-flyfishing friends the diversion of skiing or shopping if they want to accompany you. Take I-70 to the Silverthorne exit and you're there. For more info, see our story on the Blue.
Taylor River-
The Taylor is a small tailwater stretch with giant trout. It's a bit out of the way, but the reward can be huge. More info on our story of the Taylor.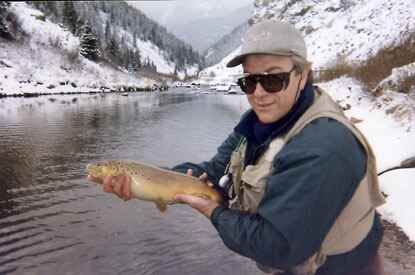 Waterton Canyon-
Close to Denver, this portion of the South Platte freezes up in part, depending on the air temperature. Hike further up the canyon for better fishing and conditions. More info...
Cheesman/Deckers-
Ah yes, the South Platte. Brave the slippery slopes to get in some winter fishing. Watch the roads and watch for crowds. Read more...
The Dream Stream-
A great tailwater section of the South Platte found in ever-so-cold-and-windy South Park. What the heck - bundle up! How to get there
Fryingpan-
OK, so you're close to Aspen but you don't have to go there. Send your friends. It's a gorgeous tailwater, but frustrating. Give it a shot and hope the water might be open further downstream. Click here for more information.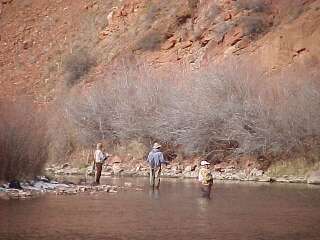 San Juan-
Skip into New Mexico and get away from some of the insanity. A little more room here for a tailwater and a different feel. Want to know more? Click here.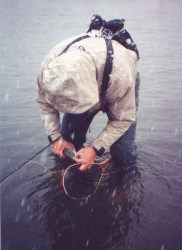 The Colorado-
Yep, parts of this river stay ice-free from Granby to Kremmling. Boy, it can get cold, especially in the morning. But still, you're flyfishing instead of sitting at home. More info...
Williams Fork-
You've got to walk a little, but it's not too bad. Just make sure you don't need to go back to the truck. The Williams Fork is quiet, peaceful and rewarding. More in the story about the "Bill".
Resources:
Buy an ebook about 50 of Colorado's Tailwaters
Click here to buy digital guide maps for several of these rivers
---