Summer Dreams-One Reader's Photos
submitted by Vance Herring
(Ed. note - One of our friends sent us these pictures from a trip last summer. Maybe they will inspire you to start planning your Spring and Summer trips!)
August was a good outing, and I coaxed these kids into some quick shots. Hopefully, these fish will be another inch or two bigger next year. The big brown went for a small weighted muddler. The cuts went for hoppers (dummies), and the big cut-bow (or whatever it is - we didn't study it long enough) went for a copper john.
With early August conditions (low water, and a little warmer than normal) we really went to great measures to do the right thing, and play the fish quickly, and get the photographer in position for a quick-lift-it-out-get-the-shot, get the hands wet, lift the fish, and back into the river right away .... only a few seconds, and it still makes me a little nervous. We're carrying cameras around out neck to expedite this procedure. Dangerous situation for a camera, but worth it.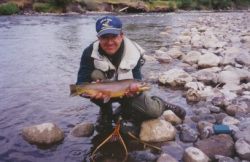 ..and the big brown? It was all I could do to keep from pulling that muddler away from him/her. I threw the fly 30' across and pretty close to the bank, started a fairly slow retrieve, and I could see the fly all the way in the clear water about 8 inches under surface. The fish immediately came from nowhere, and fell in line about a foot behind the fly. Right when I though it would see me - almost at the line/leader knot - the mouth opened, I could see the white interior of the mouth, and when she (I say 'she' because of the smallish head, but I don't know that) clamped down and the white mouth disappeared (I'm trying to be patient here!) I lifted the rod tip, and all hell broke loose. My God! I'm getting excited all over again! Stop me! This fish had certainly been eating well, judging by her tummy. A good candidate for Weight-Watchers. Probably a minnow-eater.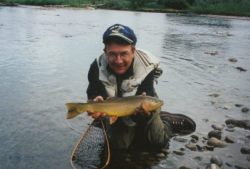 In all fairness, we hit a couple very good days with what I would call "optimum" conditions: No wind, cloud cover most of the day, a little sprinkle in the afternoon, and highs in the 70s .... mmmm.
I really fished a lot of clousers this summer. Black is fine, but I had best results with small-to-medium versions with sparse silver/gray/pewter strands, or half-black/half dark gray. I had some tied using smaller bar-bell heads, thinking I could cast them better, but decided that the larger (and heavier) bar-bell heads acted better in the water in terms of rising/sinking/rising.....and I got to where I could cast them reasonably well. Still, when you fish clousers long enough, and you switch to even a big dry, it feels effortless to cast.
I wouldn't hesitate to try a clouser occasionally even on fussy tailwaters, simply because those trout may not see all that many. And a large fish may see one as the protein equivalent of 100 tiny nymphs, and without all the effort. I wish I could say that's my own theory, but rappalla users have know that for a long time, damn them. I did try a couple big salt water versions, but the trout would only inspect (and probably chuckle).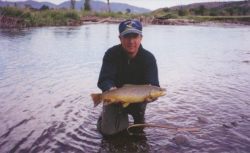 Photos copyright 2001 by Vance Herring
(Another Ed. Note - I asked Vance where these were taken. He replied, "Would it be specific enough to say that these fish came from the Colorado's western slope? You know it's hard for me to stray too far from the flyfishers creedo.")
Resources - Plan your trips:

Click here to buy guide maps for many areas in Colorado
---