The Gunnison - from Almont to Blue Mesa
by Karen Christopherson
The Gunnison River gets its start in Almont at the confluence of two other decent flyfishing rivers, the East and the Taylor. The two merging rivers are already fair-sized and once joined, create a Gunnison that starts with flows in the 1000+ cfs category. Hence, one desirable way to fish this river is from a driftboat or raft.
However, this upper section of the Gunnison is manageable, and different in style from the downstream segment below Blue Mesa Reservoir. Once the river leaves Blue Mesa, it travels through a series of canyon including some of the deepest in North America. Worthy in its own right, the lower section of the Gunnison demands much more time and effort than the upstream portion. If you only have a couple of hours to fish, you readily can get onto the Gunnison at the upstream portion.
The Gunnison holds mostly brown trout, but rainbows are also present. In the fall, Kokanee salmon run up the Gunnison from Blue Mesa Reservoir, aspiring to reach the hatchery on the East River.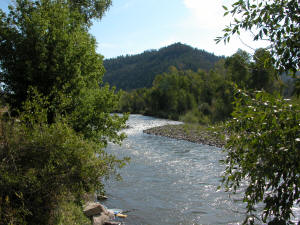 Some rocky bars make good fishing spots. You can get to these from several access points or by floating and stopping to wade.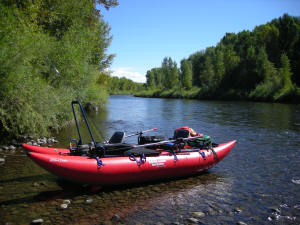 The best way to fish this part of the Gunnison is from a boat. There are several good launches and takeouts.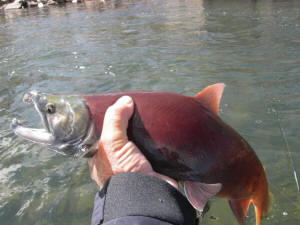 Fishing for Kokanee in the fall can be great fun - use a bright pattern, like eggs (picture by Bill Hadley)
Other Info
Rules:
From the confluence of the East and Taylor, downstream to the Hwy 50 bridge: fishing with artificial flies and lures only; bag and possession for brown trout is two (2), minimum of 16" long; catch and release on rainbows
From East and Taylor rivers downstream to standing water line of Blue Mesa Res., including tributary canals and diversions: a) Taking kokanee prohibited Aug. 1-Oct. 31. b) Snagging kokanee permitted Nov. 1-Dec. 31.
Where to stay?
Numerous cabins and motels in the area, plus campgrounds
Resources:

Click here to buy a Downloadable Digital Fishing Map for the Gunnison from the headwaters to Blue Mesa Reservoir. Includes the East and Taylor Rivers

Click here to buy an Ebook about Trout fishing on Colorado State lands - includes a lot of info about the Gunnison River area
Info on the State Wildlife Area from the Division of Wildlife can be found by clicking here
---