Caddis, Caddis Everywhere
Spring on the Arkansas River
by Karen Christopherson
April in Colorado means the arrival of longer days, warmer weather, flowers, hummingbirds, and occasional snow. But something else happens - the caddis hatch starts moving up the Arkansas River. This annual hatch, dubbed the "Mother's Day Hatch", lasts for several weeks and yes, one day of it will probably be on Mother's Day.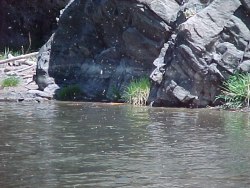 Caddis in the air - those specks are all caddis - they will be all over you, similar to black flies in Canada, just bigger and the caddis don't bite.
This is something to see - millions of caddis flying about, some spent on the water, some landed on rocks. It's also quite a sight to see trout rising, rising, rising after the caddis and gorging themselves, filled to the gills (never thought there was a reason for that expression!)
So, as Trapper Rudd of Cutthroat Anglers says, "Put down that corn dog and get in your car!" Translation - get out there and fish!
The hatch starts near Canon City and moves up the river with time. What determines the timing? A combination of water temperature and sunlight. The caddis hatch is preceded by a BWO hatch, or they can be concurrent, with BWO's coming out when the weather gets colder and cloudier. Colorado factors affect the hatch's progress and duration - water temp, air temp, sun, wind. When run-off gets severe, the hatch becomes much harder to fish.
Caddis - what are they?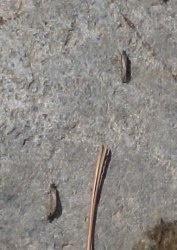 Caddis lying on a rock next to a pine needle
Caddis belong to the insect order Trichoptera (hair wings). There are thousands of species. They have the normal insect life pattern - egg, larva, pupa, adult. The adults can live for several days to weeks, emerging to complete their life cycle and lay eggs. You can find more info on the web - start at the Insect World page.
A great day
I fished the caddis hatch with my friend and guide, Jim Partin. I was off to experience the hatch, and looking forward to it since there had been a dearth of risers near home. The caddis were in the air, hitting the windshield as I drove to Jim's private access near Wellsville. I've heard that this is the way to tell the progression of the hatch early on - drive east on Highway 50 until the bugs are all over your windshield.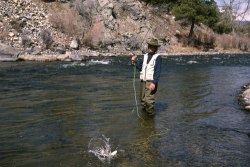 Author having fun; photo by Al Marlowe
On the river - I was eager - and soon the fish came to please. There were lots (OK, millions) of caddis flying about. Soon you could see the fish rising and fussing about in the shallows near the edge of the river.
The trick of fishing the hatch is to fish in front of it or behind it. This should seem obvious. If there are a gazillion caddis on the water, plus your one great fly imitation, do you think that Brown is going to say, "I want that one!".Yea, right (NOT). Better your chances by fishing when the hatch is a little less severe. And look for the risers - fish to them. If they stop rising, throw on a dropper.
I asked Jim when the fish decided to feed - like morning, evening, mid-day? It seemed even while we were out that feeding would be sporadic. He said he thinks God decides. Ok, so at least someone knows.
The Arkansas runs its course over a long stretch - starting near Leadville and running thru Canon City. There is quite a bit of public access. However, if you want to fish the caddis hatch without experiencing a weekend angler hatch, I would suggest 1) Take a day off and fish on a weekday or, 2) Hire a guide and access private water or float the Arkansas. It's not going to be much fun if you are fighting for parking spots and then in the river with hoards of other flyfishers, spooking the fish and fighting for elbow room.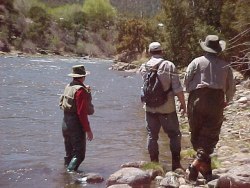 Jeff and Allen from Oklahoma City spotting risers with guide, Jim Partin (in the middle)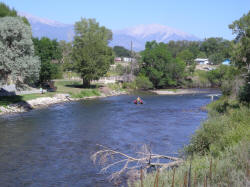 Floating is a great way to fish the Ark
Guides and info:
Visit Arkansas River Fly Shop in Salida and Buena Vista
You can get more info on the Arkansas by reading another of our articles, Banana Belt Trout or Floatin and Fishin' the Ark.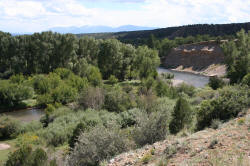 One of many access areas
Resources - Plan your trips:

Click here to buy a Digital downloadable guidemap for the Arkansas River

Click here to buy an Ebook about Trout fishing on Colorado State lands - includes a lot of info about the Arkansas River area
Click here to buy fishing guidebooks for many areas in Colorado
---