Big Fish Fix - Boxwood Gulch
by Karen Christopherson
The North Fork of the South Platte River is not especially known for its prolific trout population. Large variations in flows (the Roberts Tunnel brings water from Dillon Reservoir into the North Fork) combined with an absence of huge insect life seems to impede a great trout habitat. However, there is an exception, a part of the North Fork where large trout thrive, thanks in part to a guy and his ranch.
Boxwood Gulch is a ranch on the North Fork near Shawnee on Hwy 285. Dan Mauritz bought the property in 1988 to provide a private flyfishing opportunity for customers and employees of his Denver business. In 1994 Dan sold his business in Denver and moved to his property on the North Fork. He decided to share this section of the South Platte and opened Boxwood up to the paying public. Over the years he has done supplemental stocking in the river and built some ponds. He has raised fish and fed the fish. This has resulted in a bevy of browns, rainbows, brookies, cutts, cutbows and a few Palomino rainbows. They have grown, and bred, and grown some more. The consequence is an abundance of truly large trout, many of the 5+ pound range. There are well over 1500 trout per mile.
What Boxwood Gulch and the neighboring section, Longmeadow, provide is 2.75 miles of river close to Denver where you can fish year round and get your 'big fish fix'. Fishing is limited to 1 group of anglers per day per property (Boxwood and Longmeadow) - group size is 1 to twenty anglers, and the average size is 4 per group. Each group is accompanied by one of several authorized outfitters who guide on the river in these private sections. Dan preserves the fishery by allowing the fish some days off - sections are only fished about 4 days every week. And only one group of anglers is on each section per day - a unique feature of this angling opportunity.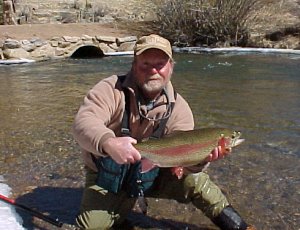 Guide Jay Core from the Blue Quill Angler holding Karen's largest trout of the day.
Boxwood and Longmeadow are particularly suited for encouraging novice anglers, or encouraging spouses. I, for example, booked a winter trip to Boxwood with my husband, Jim, and two friends. Jim can get very frustrated when flyfishing and will often opt out for riding his mountain bike or playing with the dog while I fish. I hoped Boxwood would provide a good opportunity for him to get a taste of my constant enthusiasm for the sport. Mission accomplished! After our day at Boxwood, Jim was beaming and thinking about his large fish for days, much less emailing photos to all of his friends per his bragging rights. One of his rainbows measured 23" long with a 13" girth - that's a big trout!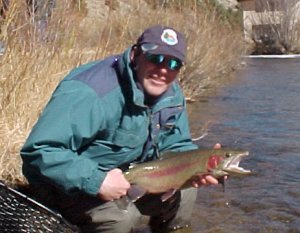 Happy husband - Jim Thompson with a nicely-colored rainbow
The trout here are big! Dan feeds the fish in both sections in the winter. There is enough bug life to keep them happy in the summer. The largest fish ever landed at Boxwood was a 32" rainbow weighing about 14 pounds.
You can try your hand at angling in a variety of waters throughout Boxwood and Longmeadow from riffles to pools to side channels to ponds. Nymphing is good year 'round and dry fly action from March through October.
The cost is an access (rod) fee plus fee for the guide. It's catch and release of course, barbless hooks. What you get for your money is a great opportunity to catch a variety of species in comfortable surroundings. Rates are lower in the winter - a great time to practice your nymphing and cure the winter blues.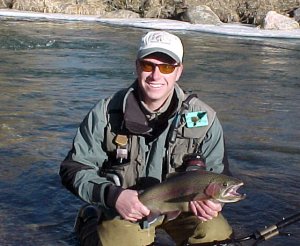 Trevor Dean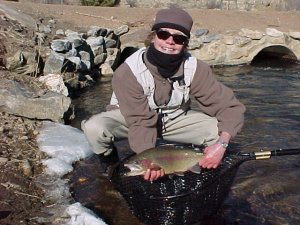 The author
If you go:
Boxwood Gulch is located about 60 miles SW of Denver on Hwy 285 near Shawnee. Reservations and arrangements must be made in advance. See the Boxwood Gulch website for more information at www.boxwoodgulch.com
---