Why Hire a Guide?
Floatin' and Fishin' the Arkansas
by K. Christopherson
Why should you hire a guide? You know how to fish, but do you know the river?
Craig Mathews, in his book, Western Fly-Fishing Strategies, says, "I wish Larry and I had taken advantage of a guide's services when I first fished Yellowstone waters 25 years ago. Instead we drove around and fished a lot of unproductive waters with the wrong flies at the wrong times of day in the wrong types of weather.... We were trying to save money, but we were also trying to save our egos". Sound familiar? Craig owns a fly shop and was a guide. He knows the mistakes he made and isn't afraid to admit them. If you have hesitated hiring a guide because you think you know how to fish, just how well do you know the particular river you are going to, the fish, the flies? And if you hesitate because of the cost, think again. A guided day for two people is very reasonable. Besides, you've already spent a fair bit on gear and getting to the river. Why not make sure you catch fish and have a great time. What could be worse than gearing up for vacation on a Colorado river and then not landing lots of fish?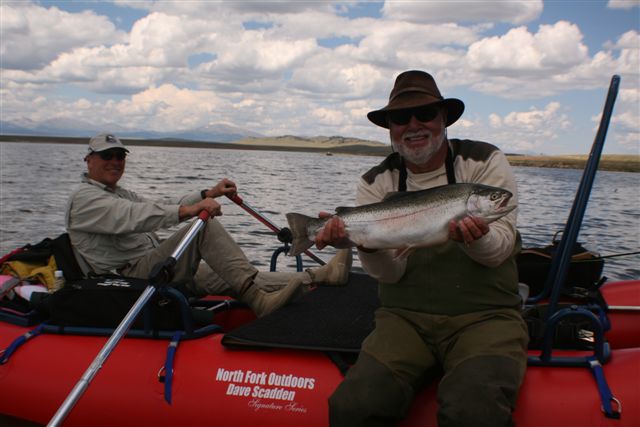 The west side of the Arkansas River Valley
My husband, Jim, and I decided to take a guided float trip on the Arkansas with Jim Partin of Caddis Trail Anglers. We knew it would be fun. What we didn't know was how much we would learn.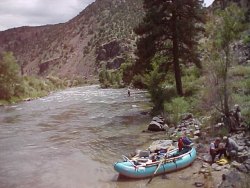 The Arkansas River is one of Colorado's major rivers. It starts near Leadville and flows south through the Arkansas River Valley, past the towns of Buena Vista and Salida. It then turns east, through Royal Gorge (one of the deepest canyons in the state) passing through Canon City and Pueblo, having traveled 150 miles before heading out across the Colorado Plains. The portion of the Arkansas that flows through Brown's Canyon and the Royal Gorge is famous for rafting, in fact it is the most rafted river in the country. There are heaps of huge rapids, with forbidding names like "caretaker" and "white wash". This river is also famous for the Mother's Day Caddis Hatch, when anglers descend on the miles and miles of river looking for hungry Browns gobbling up the caddis.
Our fishing float trip started in Salida and continued for about eight miles to near Swissvale. This portion of the river is milder with some rapids, but no rougher than class III. Thank heaven. It was just the two of us and our guide, Jim. As we traveled down the river, Jim would tell us exactly where to cast and often, when to cast. He knew where the fish were and would spot the strike, often before we did. He yelled "There he is", "Set", "Got him" so much that I almost stopped paying attention. He kept us close to one of the banks to look for the Browns hanging out under the shadows of the brush or next to rocks. He also knew what riffles and shallows the fish were in. And he knew exactly which flies to use. He's lived in the area and fished it for most of his life. Without saying how old he is, he is planning his life of flyfishing only after early retirement in a few years. So much of his info about fish and rivers can also be related to other rivers in Colorado and the West.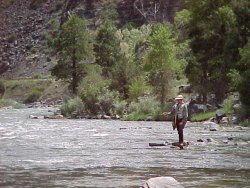 Wading the Arkansas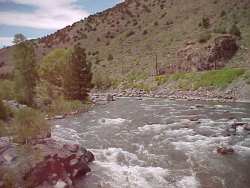 Bear Creek Rapids
Flyfishing, like golf, tennis, and skiing, is a sport where you can always improve and learn something new. Believe me, we learned a lot on this trip - not just where the fish were in this part of the Arkansas, but tips on technique and fish habits. One great trick was how to release the fish (Jim's trips are catch and release) - just grab the fly firmly and twist or shake. There goes the Brown to be caught another day. You can do it without touching the fish. I suppose you are saying, "Big deal, I knew that". Well, many of my so-called expert flyfishing friends don't know this trick.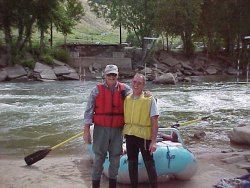 Our guide, Jim Partin, on the left
Our trip was a day filled with fun and enjoyment. We caught lots of fish, and missed lots too. We learned reams of info about fishing the Arkansas. It was money well spent. Jim is a great guy, a pleasure to be around. Not only is a great fisherman, but also a good teacher. My experience meeting other guides in Colorado is that they are all nice guys (and gals) who love fishing and the out-of-doors. They are guiding because they love the sport and enjoy showing people what they know about fishing and the rivers.
Resources/Other Info:
Make sure your guide has the experience and personality you want. Meet him/her prior to the trip or talk to them on the phone.

Click here to buy a NEW Digital downloadable guidemap for the Arkansas River. Includes a smaller version for use on mobile devices such as tablets and smart phones.
Want a guide? Visit Arkansas River Fly Shop in Salida and Buena Vista
Check out the web site for Arkansas Headwaters State Park for info on camping and fishing in the area.
Read about the annual Caddis Hatch on the Arkansas

Click here to buy topo maps for this area. You need maps 110, 129, 130 for the Arkansas from Leadville to Salida. Maps are produced by National Geographic Maps


Click here to buy a NEW Ebook about Trout fishing on Colorado State lands - includes a lot of info about the Arkansas River area
How to get to the Arkansas?
From Leadville: Take Hwy 24 south
From Denver via 285: Take Hwy 285 to its junction with Hwy 24, just south of Buena Vista.
From Colorado Springs - Follow Hwy 24 to Buena Vista, or take 115 southwest to Canon City and follow the river (Hwy 50)west.
Rules for the Arkansas River:
From the Stockyard Bridge below Salida to the confluence with Badger Creek, 7.5 miles. Fishing with artificial flies and lures only. All Rainbows are catch and release
In Chaffee, Fremont, and Lake Counties -- From the Highway 24 Bridge overpass downstream to lower boundary of Hayden Ranch: Fishing with artificial flies and lures only. The bag, possession and size limit for trout is 1 fish 12" in length or longer.
Middle Fork of S. Arkansas: headwaters downstream to Boss Lake -- artificial flies or lures only; all trout are catch and release
Where to stay?
There are numerous state, federal, and private campgrounds in the area as well as motels, cabins, and B&B's.
---